Unity 4.2 Released, Now Supports Blackberry 10, Windows 8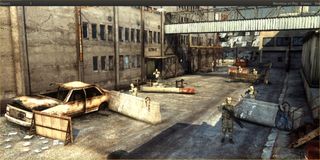 Unity has pretty much surpassed the likes of Unreal and CryEngine, by going after both the big dogs and the little ponies. It was announced today that additional platforms are now officially supported by Unity, along with the release of version 4.2.
So there's a lot to cover and not a lot of time to cover it in. Gamers and developers alike will benefit greatly from this new partnership (and update) as some of the Unity Pro features will be available to those with the standard Unity license, including real-time dynamic shadows, text-based serialization of materials and prefabs for easy pickings and manifests, as well as NavMesh baking.
There have also been some updates to support newer graphics options for the latest Android devices and lots of improved optimization for OpenGL ES 3.0 and DirectX 11 APIs. So remember how David Helgason said that they would make DirectX 11 equivalent functionality potentially possible for the Wii U? Yeah baby, Nintendo just got promoted to the big leagues in software graphics processing.
Anyway, the real big catch here is that Blackberry 10 support has been added. Now, I know a lot of people have been sketchy about Blackberry running the smartphone race against Androids and iOS-powered devices, and market share hasn't always been in RIM's favor. However, they seem to be in it for the long haul and acquiring an established connection with one of the most popular and versatile game engines on the market certainly makes it seem as if they understand how to usurp some of that market share from competitors with unique games and an easy-way to port large games from other platforms directly to the Blackberry 10.
But how did Unity and Blackberry make this happen? According to Alec Saunders, Blackberry's vice president of developer relations...
This opens the doors for a lot of porting possibility and gaming possibilities.
While mobile phones still don't quite carry the same amount of time-consumption as console and PC gaming, according to the latest ESA reports, they still make billions of dollars and have a growing presence on the digital entertainment market.
Tony Garcia, Executive Vice President at Unity Technologies believes that this was the right time to dive in on the opportunity to have Unity games on Blackberry's latest 10 device, and stated that...
The Unity 3D game engine code and software library of tools are currently available for download and use with Blackberry 10 and other newly supported devices over on the official Unity website. I guess in addition to new games coming out for iOS and Android, don't be surprised to see more games with Blackberry 10 in the supported platform manifest.
Staff Writer at CinemaBlend.
Your Daily Blend of Entertainment News
Thank you for signing up to CinemaBlend. You will receive a verification email shortly.
There was a problem. Please refresh the page and try again.