Valve Cheekily Teases Half-Life 3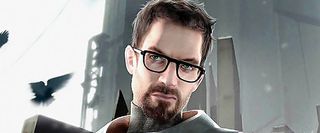 Valve are working on Half-Life 3. They just haven't told us yet. Still, that doesn't stop the Steam creator toying with its legions of eager Half-Life fans by several teases. It's a well known fact that the studio trolls us from time to time such as its own employees apparently wearing Half-Life 3 shirts. They're at it once again but this time it's more of an internal affair.
Within their handbook handed out to all new employees, one of the pages showcases "Methods to find out what's going on". In it, there's several steps but what stands out, inevitably, is the employee within the book sporting a Half-Life 3 shirt, as shown below.
While the company has kept extremely tight lipped pertaining to anything Half-Life 3, except to notify fans that they're being trolled, Valve's last solid statement on the game occurred during an interview with AusGamers (opens in new tab):
"We are not done with Gordon Freeman's adventures. I have nothing other than that to tell you today, but hang in there with us," said Doug Lombardi at the time, who is the firm's director of marketing.
In regards to the timing of a reveal for Half-Life 3, Valve will, unlike last year, be present at this year's E3. Their booth, outed by E3's exhibitor list (opens in new tab), is sure to showcase already-revealed titles from the developer including Counter-Strike: Global Offensive and DoTA 2, but there's always the possibility of a Half-Life 3 reveal. One can hope.
Your Daily Blend of Entertainment News
Your Daily Blend of Entertainment News
Thank you for signing up to CinemaBlend. You will receive a verification email shortly.
There was a problem. Please refresh the page and try again.