Valve Gives Away Left 4 Dead 2 Free For Christmas; Steam Is Now Completely Broken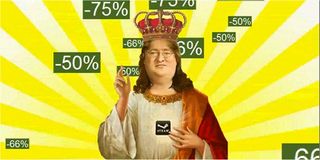 There were a few more games I wanted to get... a few more software titles to round out my already illustriously long library. There were just two titles to get today... two titles. That may not happen. You want to know why? Steam is broke. You want to know why? Because the internet broke it. You want to know why? Because Valve was being too generous for their own good during their Steam Holiday Sale.
Everyone and their mother, their cousin, that three-legged dog your uncle Pablo gave you and even his no-tailed kids are all huddled around the PC at the moment trying to flood the Steam store to grab the latest deals and newest freebies. That's right, Valve is offering PC gamers a completely free, no-strings-attached version of Left 4 Dead 2 right now. What's the catch? There is no catch. Literally, it's like the complete opposite thing that companies like Electronic Arts, Ubisoft and Microsoft do.
The only hurdle is that you'll need a free Steam account in which to install the game (assuming you don't have one). Once you get the account setup, just add Left 4 Dead 2 to your account via the store page. It's like buying a product except you don't have to pay any money for it. Radical right?
Some questioned why Valve didn't just add the game to the library of all their current Steam users, but this isn't a game just for Steam users, it's a game for everyone. And considering that new users will need to browse through the store before they can add the free game to their library, I would imagine the sales tactic is working. In fact, it's working so well that hordes of countless Steamites have worked as a torrent of digital signatures all trying to get their hands on a free game and maybe a bundle pack of discounted titles, too.
Reddit user Regansmash3 pointed users to the Steam Status app that shows the current network status of the Steam services, and here's a snapshot of what it looks like at the time of the publishing of this article.
Basically, it appears as if not only did everyone log-in to get the free game but they also decided to load up their shopping carts with tons of games as well (sort of what I was about to do). Sadly, for those of us who planned on getting specific games at the moment, we'll just have to wait until the sales-surge dies down a bit.
If you want a direct link to the Left 4 Dead 2 store page, you can get to it by clicking on this link right here. You may have to hurry as the special offer for a free game ends at 10:00am PST, December 26th.
Is it possible we could actually see this kind of digital community surrounding the Xbox One, given its penchant for a digital future? Pfft, nah.
Your Daily Blend of Entertainment News
Staff Writer at CinemaBlend.