Steam Holiday Sale Launches, Snow Globe Trading Cards Give You Bonus Items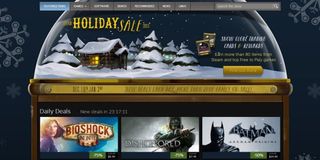 Hope your holiday shopping didn't completely empty out your wallet, because here comes the Steam Holiday Sale. For the next two weeks, Valve is slashing prices on many of their games including BioShock Infinite and Batman: Arkham Origins.
Each day Steam will offer a new set of deals. Here's the first batch of 24-hour sales:
BioShock Infinite - $9.99 (75% off)
Batman: Arkham Origins - $24.99 (50% off)
Metal Gear Rising: Revengeance - $19.99 (33% off)
Assetto Corsa - $29.99 (25% off)
Dishonored - $7.49 (75% off)
Dead Island: Game of the Year Edition - $4.99 (75% off)
Monaco - $5.99 (60% off)
Space Hulk - $10.19 (60% off)
The Stanley Parable - $8.99 (40% off)
Meanwhile, a trio of Flash Sales will change every 8 hours. These are the first three:
Counter-Strike: Global Offensive - $3.74 (75% off)
Divekick - $2.49 (75% off)
The Typing of the Dead: Overkill - $9.99 (50% off)
Another 8-hour deal will be determined by fan voting. You can vote for either Shadowrun Returns, Dust: An Elysian Tail or FTL: Faster Than Light. I consider FTL to be a must-play but you can't go wrong with those other two, either. The winner's price will be marked down by between 55% and 75%.
The shorter sales are supplemented by discounts that run the full duration of the holiday event. For example, all of Bethesda's games are now 50% off.
During the Steam Holiday Sale, players can earn Snow Globe Cards. These cards are doled out for every $10 you spend or game badge you craft during the sale. You can also get one card for every three times you vote on the Community's Choice Flash Sale. Cards can be traded with other players or bought on the Steam Market as well.
Once you've acquired all 10 cards, you can turn them into a Snow Globe 2013 Badge and unlock a free item from one of Steam's top free-to-play games. If you craft a badge with foil cards, you'll get five items. Dota 2, Team Fortress 2 and Path of Exile are among the games that you could get a freebie from. There's a chance you'll earn an item from a game you don't actually want to play, but at least you have the option of crafting additional Snow Globe badges.
The Steam Holiday Sale will run until January 3rd.
Staff Writer at CinemaBlend.
Your Daily Blend of Entertainment News
Thank you for signing up to CinemaBlend. You will receive a verification email shortly.
There was a problem. Please refresh the page and try again.