Garry's Mod Now Supports Left 4 Dead 2, Portal 2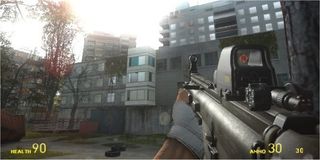 Remember way back when...back in the age where naysayers used to say that Garry's Mod would never be able to support the latter iterations of the Source Engine? Remember that? Yeah, I'm sure you could pull up a few forum threads where some negative Nicks and downer Debbies shot the entire concept six feet through the ground. Well, I'm also pretty sure the Nicks and Debbies are feeling awful salty knowing that Garry has seemingly done the impossible with Gmod 13...yes, it now supports Left 4 Dead 2, Alien: Swarm and Portal 2.
To the normaltons out there, this news is probably baffling and bewildering. "Who cares if Garry's Mod supports Left 4 Dead 2 and Portal 2...what does it even mean?" says most gamers. Well, good plebs, it means that you can now mount two of Valve's most popular games into Gmod 13.
In simple terms, it's now just a few clicks away before weapons, levels and zombies from Left 4 Dead 2 are useable, operable, prop-erable and most importantly, playable in Garry's Mod. The same can be said for Portal 2 as well, two high-end Source Engine games that most people felt could never be mounted into Gmod.
While I was never a big fan of Garry's Mod -- mostly because it always looked ridiculous and stupid -- after seeing someone port over the visual screen effects from Battlefield 4, add in movement and camera work from Far Cry 3 and pop in a nice cache of realistically modeled and designed weapons from Counter Strike, my impressions of the sandbox toolset went from nil to nifty.
With the addition of things like parkour mods, Elder Scrolls' weapons, and NPCs from games like Mass Effect and Jurassic Park, the gaming possibilities have become endless for Gmod. Heck, there's even an EVE-style gamemode in the works.
What's more is that this achievement of Garry allowing high-end Source games to be imported into Gmod – a task that was labeled as next-to-nigh impossible and was the result of much begging within the community – means that this is one of the few games under $10 that just keeps on giving.
Unfortunately we don't have any cool videos of people playing the campaign of Left 4 Dead 2 mounted onto Garry's Mod at the moment, but I'm sure they'll arrive soon. In the meantime, you can visit the Official Steam Page to learn more.
Your Daily Blend of Entertainment News
Staff Writer at CinemaBlend.
Your Daily Blend of Entertainment News
Thank you for signing up to CinemaBlend. You will receive a verification email shortly.
There was a problem. Please refresh the page and try again.