Virtua Fighter 5: Final Showdown Detailed With Tons Of DLC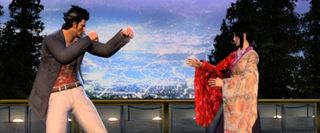 When I first heard the news that a new Virtua Fighter was on the way, I was quite excited. AM2 and Sega have been knocking it out of the ballpark with the games in the past, and I actually preferred the latter Virtua Fighter games over Tekken 3, 4, and 5. However, Sega seems to be taking that fan trust and testing it with a new DLC monetization system.
According to Electronic Theatre, Virtua Fighter 5: Final Showdown will arrive for the Xbox 360 and PS3, taking with it all the lovable arcade features and tossing in additional console-exclusive features such as replay mode, match record, eight-player online Room Match Mode and training mode. Two new characters will also be included, Jean Kujo and Taka-Arashi.
Things seem fine at first especially given that the game will launch at a budget price of $14.99 for the PS3 or 1,200 MS Points for the Xbox 360. However, all the customization features have become monetized. Gamers will have to decide if the tradeoff is worth it, as DLC packs will be available day and date for the game's launch, with each of the 19 fighters having their own customization packs, and each pack costing $4.99 or 400 MS Points per character.
Alternatively, the 950 customization items can also be purchased in two separate DLC packs for all 19 characters for $14.99 or 1,200 MS Points each. Ultimately, you're paying approximately $95 if you plan to purchase the packs separately for each character, or the total cost would equate to $44.97 if you decided to buy all the DLC in the bundle packs along with the game.
Technically $44.97 isn't a bad price but I imagine the $14.99 entry price looks more appealing to gamers who are budget conscious. The main thing is to keep in mind that it would cost you more money buying the packs separately as opposed to buying them in bundle packs, so if you plan on getting any of the DLC (and you plan on getting more than one package) you do better getting it in a bundle.
Virtua Fighter 5: Final Showdown is set for release on June 5th. You can learn more about the game by visiting the Official Community Website.
Your Daily Blend of Entertainment News
Staff Writer at CinemaBlend.