WWE 2K15 Adds WCW Characters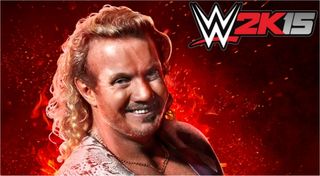 Yukes and 2K Games have gone and expanded the roster of wrestlers in the recently released WWE 2K15, stretching the selections beyond the current crop of squared-circle athletes. The new update includes key wrestlers from the WCW golden age.
ShackNews is reporting that a new batch of wrestlers have become available for owners of WWE 2K15, which includes some pretty notable names from the heyday of Ted Turner's wrestling empire before it was usurped by Vince McMahon.
The pack contains legends like Diamond Dallas Page, who was one of the instrumental figures that helped WCW in the Monday Night Wars; as well as Lord Steven Regal, the same Regal who performed in that legendary, unscripted shoot match with Bill Goldberg that ended with him receiving his pink slip for that one (most people think the match was botchamania but Regal was trying to upstage Goldberg by attempting to go stiff on him); Bam Bam Bigelow, who seemed to stay consistent from his time in WWF, ECW and WCW; Fit Finlay, who sadly lost his job at WWE over a rather silly flag incident; and Lex Luger.
The DLC pack carries a $7.99 price tag. A couple of websites originally reported that the WCW pack would be part of the WWE 2K15 season pass, but it turns out that even if you paid for the season pass you still have to buy the WCW pack separately. Yes, even if you paid to get all the DLC within the seasonal release, it still doesn't cover all the DLC released within the season. I'm beginning to wonder what the point is of season passes other than to be cash grabs from people who don't know any better?
One of the things I learned to do is that if a game doesn't have a GOTY edition, it's sometimes best to wait a year or so and then buy the game with the season pass if it includes all of the previously released DLC... but only if it's cheaper. It actually worked out well with Max Payne 3 because if you bought the game and then got the season pass you actually received all the other DLC retroactively for a cheaper price. Unfortunately, anyone who bought the season pass for Borderlands 2 was not so lucky. It appears that piss poor luck also extends to WWE 2K15.
I've never been fond of season passes and the whole thing, in my opinion, reeks of a scam to milk consumers out of as much money as possible while attempting to sell content piecemeal, post-launch.
Now whether you purchased the season pass for WWE 2K15 or not, the Hulk Hogan and Sting DLC is also made available to any and everyone who didn't pre-order the game. For those of you who didn't know, if you pre-ordered WWE 2K15 you would have access to two types of Hulk Hogan, the classic red and yellow and Hollywood Hulk Hogan, as well as two types of Sting, the surfer-dude Sting and the Crow Sting. Both WCW legends are available for $2.99 each.
WWE 2K15 is currently available right now for the Xbox One, Xbox 360, PS3 and PS4. Sadly, both Nintendo and PC gamers are left out in the cold. The WCW DLC is available right now.
Staff Writer at CinemaBlend.
Your Daily Blend of Entertainment News
Thank you for signing up to CinemaBlend. You will receive a verification email shortly.
There was a problem. Please refresh the page and try again.