WWE 2K15 Roster Revealed, Did Your Favorite Wrestler Make The Cut?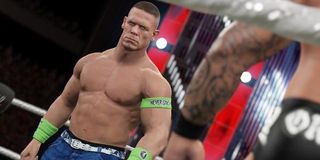 WWE 2K15 will launch with 47 wrestlers this fall. 2K Games revealed the full list of superstars in the game this weekend.
The developers announced earlier this week that four of these wrestlers will be featured in a new 2K Showcase Mode. This mode lets players relive the rivalry between Triple H and Shawn Michaels along with CM Punk's feud with John Cena. These rivalries play out over 33 matches and allow players to earn new unlockables. 2K plans to add other rivalries to this list over time as DLC.
Sting is actually a pre-order bonus. Players will be able to choose between two incarnations of Sting: his evil mime costume from the late 90's and his earlier blond surfer look. That should be a big hit with older wrestling fans.
John Cena is the cover athlete for the standard edition of WWE 2K15. However, 2K is also offering a Hulkamania Edition that pays tribute to Hulk Hogan. This $100 bundle comes with an art card signed by Hogan, a vinyl figure of him during his "Hollywood" period, and a piece of ring canvas from a Monday Night Raw appearance he made. The Hulkamania Edition also unlocks Hogan's classic and Hollywood appearances for the game. Sting is included with this edition of the game as well.
Darren Young, meanwhile, was announced at LGBTQ gaming convention GaymerX earlier this summer. Young, the first openly gay superstar in the WWE, was part of WWE 2K14's roster as well.
Here's the full list of wrestlers included in WWE 2K15 in alphabetical order. They courtesy of the roster reveal event earlier today:
AJ Lee
Alberto Del Rio
Bad News Barrett
Batista
Big E
Big Show
Booker T
Bray Wyatt
Brie Bella
Brock Lesnar
Cameron
Cesaro
Chris Jericho
CM Punk
Cody Rhodes
Curtis Axel
Damien Sandow
Daniel Bryan
Darren Young
Dean Ambrose
Dolph Ziggler
Erick Rowan
Fandango
Goldust
Hollywood Hulk Hogan
Hulk Hogan
Jack Swagger
Jey Uso
Jimmy Uso
John Cena
Justin Gabriel
Kane
Kevin Nash
Kofi Kingston
Luke Harper
Mark Henry
Naomi
Natalya
Nikki Bella
Randy Orton
Rey Mysterio
Ric Flair
Rob Van Dam
Roman Reigns
R-Truth
Ryback
Santino Marella
Seth Rollins
Shawn Michaels
Sheamus
Sting
Sting (Retro)
"Stone Cold" Steve Austin
Summer Rae
Tamina
The Miz
The Rock
The Undertaker
Titus O'Neil
Triple H
Tyson Kidd
Xavier Woods
WWE 2K15 is in development at Visual Concepts & Yuke's for the PS3, PS4, Xbox 360, and Xbox One. The game will debut on October 28th in North America and on October 31st in Europe.
This poll is no longer available.
Your Daily Blend of Entertainment News
Staff Writer at CinemaBlend.