Watch The First 18 Minutes Of Bloodborne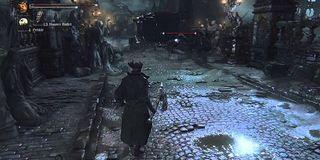 In case you simply can't get enough of Bloodborne before it launches next month, and assuming you don't minds some early spoilers, you can now check out the first 18 minutes worth of content pulled from From Software's latest dark fantasy adventure game.
Due to release exclusively on the PlayStation 4 on March 24, Bloodborne has turned many a head since its reveal last year. Part of the PlayStation press conference during E3 2014, Bloodborne was originally assumed to be some sort of Dark Souls 2 expansion when early footage of the game leaked before the big reveal.
Once the press conference rolled around, however, we quickly discovered that Bloodborne was an entirely different beast, this time focusing on faster combat, an extremely dark London-esque setting and more gore than you can swing an oversized fold-out hatchet-thing at.
Since its reveal, we've seen quite a bit of Bloodborne in action, from combat tutorials to details on the unique multiplayer dungeons.
Now, though, the PlayStation Blog has posted the latest in the IGN First series, this time showing off nearly 20 minutes of Bloodborne's campaign.
Looks pretty rad, right? According to IGN Editor Marty Sliva, team members had to fly to Japan to actually get their hands on the game, featuring visits to From Software's stomping grounds, as well as Sony Japan Studio.
"I could gush on and on about how great the opening is, but honestly, the footage speaks for itself," Sliva said.
He goes on to explain that the section he got to play was from an older build of the game, hence a "rough edge or two." Given the developer's work on previous Souls games, I'm not too worried that issues will be ironed out before release.
Other than that, Sliva is right when he says that the footage speaks for itself. The world looks amazing, which has always been a trademark of From's games. Lots of detail and an oppressive atmosphere even that awesome sword can't cut through. Dark Souls' DNA can be seen throughout, too, popping up in triggered save points, pick-ups even the user interface. The monsters look just as fierce as anything you'd see in a Souls game, too, and the combat indeed looks a bit more rapid-fire. Don't expect to run and gun, though, as it's clear even in these early goings that strategy and patience are the key to survival.
Your Daily Blend of Entertainment News
Staff Writer for CinemaBlend.