Watch Marshawn Lynch and Rob Gronkowski Battle In Mortal Kombat X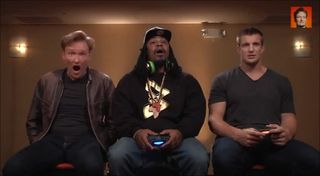 There are very few videos that could genuinely get me to stick around and read through a bunch of YouTube comments, but Conan O'Brien's "Clueless Gamer" segment with Seattle Seahawk's Marshawn Lynch and New England Patriots' Rob "Gronk" Gronkowski with Mortal Kombat X had me reading through YouTube, laughing at the segment and being genuinely excited for NetherRealm Studios' upcoming fighter.
Conan invited the two superstars from the rival teams set to meet head-to-head on Sunday at the Super Bowl, giving them a chance to exercise their video game skills and put a beating on each other without lifting a finger... except, for maybe to press buttons on the controller.
The whole segment was pretty hilarious and I was shocked that they were able to get 11 usable minutes out of the whole thing. At first I thought that it would be a little overdrawn and stretched out, but there were some real highlights in the segment. For instance, Lynch explaining his button-mashing tactics, as if that actually has an effect on the way the characters fight in the game, and both of them deciding to play as "chicks" where comparisons to bubblegum and bees were made, all happened to be smirk-worthy.
But what really kicked things into high gear was their very first reaction to the fatalities in Mortal Kombat X. I had to screen-cap that moment because Lynch couldn't even stick around to see all of it. Check it out.
Lynch headed for the door, muttering that he didn't come to see that sort of thing.
It's understandable given that Mortal Kombat X really ramps up the violence by a sizable notch. The disembowelments, the body splitting, the x-ray attacks – all of it has been elevated with today's technology with higher polygon counts and richer visual effects, making the brutal finishers look a lot more realistic and gory than ever before.
Heck, even when they aren't necessarily gory, such as Ermac's finisher, it can still be somewhat disturbing to watch.
I'm sure the NetherRealm crew on hand were getting a real snicker out of the whole segment.
Things wrapped up on a pretty positive note, however, as Conan graced both Lynch and Gronkowski with his own winning touchdown celebration, which included taunting opponents, kissing the football, cradling the football and then setting it down to sleep.
There are a bunch of YouTube comments saying that Lynch or "Gronk" should use Conan's touchdown victory celebration if either of them manage to score a touchdown. It's a long shot, but I'm sure Team CoCo fans will want to keep an eye out for it.
As for Mortal Kombat X, the game is due for release on April 14th, 2014 for the Xbox 360, Xbox One, PS3, PS4 and PC. NetherRealm Studios has been releasing new trailers and assets for the pugilists leading up to the game's release, including videos for characters like Kung Lao, Cassie Cage, Kitana and Kano. We can expect to see more of the roster fleshed out as the game draws nearer to release.
You can learn more about Mortal Kombat X by paying a visit to the official website. You can also look for Marshawn Lynch and Rob "Gronk" Gronkowski to step foot onto the field during the Super Bowl this Sunday.
Staff Writer at CinemaBlend.
Your Daily Blend of Entertainment News
Thank you for signing up to CinemaBlend. You will receive a verification email shortly.
There was a problem. Please refresh the page and try again.