Who Mortal Kombat X's Cassie Cage May Have Been Based On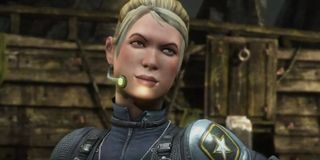 One of the characters in Mortal Kombat X looks a little too familiar to UFC fighter Felice Herrig. She says that Cassie Cage was "definitely" based on her.
Herrig made the observation on her Instagram account. She provided two sets of comparison images to showcase the similarities between her and the Mortal Kombat X fighter:
When a celebrity notices their likeness being used without their permission, a lawsuit usually follows. Lindsay Lohan and former Mob Wives star Karen Gravano both sued Rockstar Games for allegedly basing GTA 5 characters on them. Herrig, however, isn't upset that Netherrealm Studios used her as inspiration for Cassie Cage:
This wouldn't be the first time Herrig has appeared in the video game. She was a playable character in the 2011 release Supremacy MMA. Herrig, along with Michele Gutierrez, were the first female MMA fighters to be featured in a video game.
Cassie Cage is one of several new characters being introduced in Mortal Kombat X. She's the daughter of classic Mortal Kombat fighters Sonya Blade and Johnny Cage. Judging from her outfit, she seems to be a commando just like her mom. She brings handguns and a nightstick to each battle.
A lot of female characters in fighting games look like underwear models that got lost on their way to their audition. It's hard to imagine most of the ladies from Dead or Alive holding their own in a brawl. Cassie Cage is far from unattractive but at least she looks like she could plausibly fight someone. It seems like picking an MMA fighter for the character's inspiration was a smart move.
Your Daily Blend of Entertainment News
Staff Writer at CinemaBlend.