Watch Ronda Rousey Pummel Floyd Mayweather In Street Fighter 4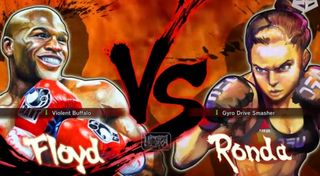 One of the biggest feuds that we'll likely never see come to fruition in real life is the one between "Rowdy" Ronda Rousey and Floyd "Money" Mayweather. The two super-athletes are at the top of their game in their respective sports but one gamer wanted to see how they would fair against each other in Street Fighter IV.
Using mods, YouTuber Richie Branson matched up Rousey and Mayweather in Street Fighter IV and you can see the results below, as spotted by Kotaku.
Branson applied mods to Balrog and Cammy to represent Mayweather and Rousey. He explains the method in which the fight took place in the YouTube description, writing...
Branson plans on releasing the skin mods for the PC version of Street Fighter IV soon, enabling gamers to download and play as their favorite real life fighters in Capcom's popular one-on-one fighting game.
A lot of people were also all-in on that sick beat that played in the background, and Branson linked to the free tune that you can download over on his website.
The mod itself isn't all that special, other than Cammy's cool looking getup, which actually almost looks like something Rousey would wear. However, the conversation following the display of the mod is what's interesting.
It's a super-fight discussion that most people know will never happen but they want to speculate anyway. It's a little like Mike Tyson versus Brock Lesnar or Stone Cold Steve Austin versus Bill Goldberg; fantasy match-ups that are either restricted by promotion differences, age differences or gender differences.
In this case, Floyd Mayweather came off a huge win against Manny Pacquiao earlier in the year, and Ronda Rousey continues her undefeated streak in the UFC as Dana White's golden child. The two exchanging some verbal jabs at each other in the media has led to many discussions about who would win between the two, culminating in fantasy exhibitions like the one featured in Street Fighter IV above.
However, if I have to be honest I don't think Balrog best exhibits an accurate portrayal of Mayweather at all since the character was originally mirrored after Mike Tyson (and in Japan his name is actually M. Bison as a play on the Mike Tyson name). Despite being a wrestler, El Fuerte probably would have been a slightly more accurate portrayal of Mayweather only because he moves around a lot and attempts to avoid being hit with a lot of fancy footwork.
Anyway, fight fans who have longed for a fantasy match-up between Ronda Rousey and Floyd Mayweather can at least vicariously get their kicks through Branson's Street Fighter IV mod.
Your Daily Blend of Entertainment News
Staff Writer at CinemaBlend.
Your Daily Blend of Entertainment News
Thank you for signing up to CinemaBlend. You will receive a verification email shortly.
There was a problem. Please refresh the page and try again.