WWE 2K16 Cover Star Is Stone Cold Steve Austin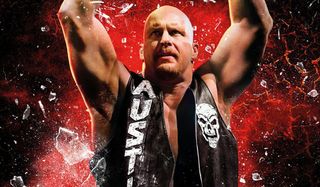 Today 2K Sports revealed the cover athlete for WWE 2K16. Stone Cold Steve Austin will be featured on the packaging for the wrestling series' latest installment.
Austin needs no introduction to most WWE fans. He's earned 21 championships through his career with the organization. The WWE inducted him into their Hall of Fame in 2009. Though he's retired from the ring, he still has close ties to the WWE. He hosted the 2011 relaunch of reality series Tough Enough, in which amateur wrestlings compete for a contract with the WWE. Austin also currently hosts a monthly interview show on the WWE Network.
He's well-known enough in pop culture that his choice for cover athlete makes sense. Austin makes the game appealing not only to hardcore fans but also casual viewers who potentially haven't watched WWE since the hugely popular Attitude Era in the early 2000s. Even if you've never watched WWE, you probably know who he is. That's very helful to the folks marketing the game.
This isn't the first time that 2K has tapped a retired great for one of their sports game's covers. For example, they hired Michael Jordan for NBA 2K11. Rival sports publisher EA has done the same, tapping former superstars like Mike Tyson and Barry Sanders for their games.
2K vice president of marketing Chris Snyder said that Austin will help the developers in making the game as well:
Austin will have a lot of opponents in WWE 2K16. The development team said last week that the game will have over 120 characters at launch. By comparison, WWE 2K15 had 67:
WWE 2K16 is in development for Xbox One, Xbox 360, PS4 and PS3. Long-time series developer Yuke's is collaborating with Visual Concepts on the project. They plan to release the game across all platforms on October 27th in North America and October 30th internationally.
Your Daily Blend of Entertainment News
Staff Writer at CinemaBlend.