This Week In Video Games: New Batman Game And More Konami Drama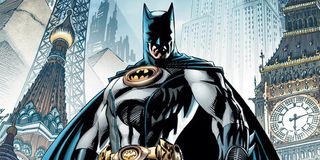 The Game Awards 2015 were held on Thursday and, in spite of the nominations for Metal Gear Solid 5, Hideo Kojima wasn't allowed to attend. I'm sure you can guess why but, if not, we've got the full story for you below.
Fortunately, there's some good news out there to balance out the drama. We've got a new Batman game on the way and possibly a non-sucky Teenage Mutant Ninja Turtle game as well. Here are the biggest news stories of the week:
Top Stories of the Week
Telltale Is Making A Batman Game - "I didn't choose to be Batman. No, seriously, I didn't. I picked the 'become a doctor' option but the game made me a masked vigilante anyway."
Why Hideo Kojima Wasn't Allowed To Attend The Game Awards - Those pachinko machines aren't going to repair themselves.
EA Sports UFC 2 Cover Athlete Will Be Decided By Fight - Ronda Rousey needs someone to split the curse (opens in new tab) with.
Does Fallout 4 Easter Egg Connect The Game To Skyrim? - Nope.
Download Jade Empire For Free Now - Comes with a free dose of false hope for a sequel.
Nintendo NX Console Coming Earlier Than We Thought - This news doesn't make me at all concerned about whether Legend of Zelda will actually be released on Wii U.
Bayonetta Developer Could Making Teenage Mutant Ninja Turtles Game - *head explodes*
You Can Now Play XCOM In Microsoft Excel - Introduces a new Psionic power, "VLOOKUP."
Final Fantasy 6 Rated For PC - Big news for everyone who doesn't know what ROMs are.
This Corporation Is Using Video Game To Evaluate Job Candidates - "What button makes my character say, 'My biggest flaw is that I'm a perfectionist'?"
Ubisoft Could Have New Owner Soon - Oh man, I hope they get bought by Provides Evidence Of Beyond Good & Evil 2's Existence, Inc.
Top Videos of the Week
Fallout 4 mod makes everyone's faces a whole lot creepier:
Verizon makes a fully functional video phone inside Minecraft:
GTA 5 modder shows off "Pinnacle of V," a huge visual overhaul for the game:
Top Quote of the Week
"We all know that making a game is not a glamorous life. It is long hours. It is time away from your family. And, no matter what, when the game's out, someone on the Internet is going to be mean to it. I'm sure it comes down every day.. somebody says, 'Is this worth it?' And I want you to know that, on behalf of the millions of lives you've changed, it is worth it. Thank you for making games. I would not be the person—we would not be the people we are today—if it wasn't for video games." - Greg Miller, during his acceptance speech for Trending Gamer at The Game Awards 2015.
Staff Writer at CinemaBlend.
Your Daily Blend of Entertainment News
Thank you for signing up to CinemaBlend. You will receive a verification email shortly.
There was a problem. Please refresh the page and try again.