White Xbox One And Sunset Overdrive Bundle Listed By Retailer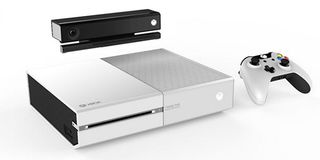 Microsoft may start selling a white version of the Xbox One this fall. French retailer MicroMania now lists a white Xbox One console bundled with a copy of Insomniac Games' Sunset Overdrive.
"But I don't want Sunset Overdrive!" you might be saying. Well, that's the thing: MicroMania (via Xboxygen) says the price of the bundle is 399,99 €. That's what the Kinect-less Xbox One normally costs on its own. That means that Sunset Overdrive is essentially free in this package. Here's a screen-cap, in case it gets taken down:
Giving away Sunset Overdrive with a white Xbox One makes sense. While we were impressed by the game's showing at E3, it's a brand-new IP without much name recognition. Attaching Sunset to a desirable new Xbox One model is a way to put the game in as many homes as possible.
It's a strategy Microsoft has adopted in the past. A special Xbox One bundle released in March included free digital copies of Titanfall. Titanfall, like Sunset Overdrive, is an XB1 release that's not based on an established franchise. Assuming that this bundle sold well, it seems logical that Microsoft would try something similar for Sunset.
This listing reminds me of Insomniac's tease last month at RTX 2014. During a Q&A session for Sunset Overdrive, they were asked whether the game would be offered with a special edition Xbox One. Insomniac's reply: "Stay tuned!"
I was hoping for a wacky paint job on the Sunset Overdrive Xbox One to reflect the game's cartoonish art style. Still, I get why Microsoft would just go with a white model of the console. They completed the design of the white Xbox One last fall, giving it to every member of the Xbox team at launch.
Also, it seemed inevitable that white was going to be one of the standard colors of the console eventually. The Xbox 360 launched in white before being joined by a black model two years later. If Microsoft is going to sell Xbox One in two colors throughout its lifespan, it's probably going to be those two.
The white Xbox One bundle is supposedly a MicroMania exclusive. I imagine that exclusivity only applies to France, though. MicroMania's parent company GameStop will probably get the rights to sell it here in the United States if Microsoft plans to offer the bundle in this country.
The PS4 is going white this fall as well. The white PS4 will ship with Bungie's shooter Destiny. European gamers will also have the chance to buy that model separately.
Staff Writer at CinemaBlend.
Your Daily Blend of Entertainment News
Thank you for signing up to CinemaBlend. You will receive a verification email shortly.
There was a problem. Please refresh the page and try again.