Who Else Never Played The Legend Of Zelda Series?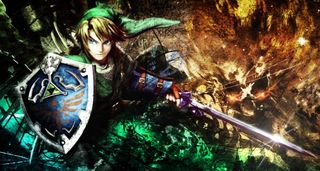 The Legend Of Zelda may be one of the most popular Nintendo video game series of all time—and I have never played a single Zelda game in my whole life. Before you start storming my door with pitchforks and brightly-lit torches, I can assure you it wasn't because I thought The Legend Of Zelda series was a bad game, but it was something more simpler than that.
When I was born, my mother used to tell me right before she went into labor, my dad was playing Ghouls N' Ghosts on his trusty Sega Genesis, a game I have an undying obsession with to this day. My father was a Hispanic-American and absolutely loved his American products, especially when it came to cars. He somehow had my sister and I trained to believe that PlayStation was better than Nintendo because Sony was American and made much better—but I later found out that wasn't actually true, of course. I think he just wanted us to like what he liked, so he told us what we thought we wanted to hear, because Dad always knew what was right when it came to video games.
So growing up, we had a Sega Genesis and a PlayStation and I spent the majority of my childhood playing games like Ape Escape, Crash Bandicoot, Sonic The Hedgehog and Spyro The Dragon.
But I later learned that my cousins had a Super Nintendo and every time we went over to their house, my cousin and I would play Super Mario. To me, it was this really wonderful video game experience that felt so fresh and forbidden. I could never understand why we couldn't have a Nintendo. What was so bad about it?
Another one of my predictions about why we never had a Nintendo was I think my father was obsessed with the quality of graphics in a game. He was always so mesmerized by how well something looked. When he goes to buy something, he shops for quality, and I feel like it was the same for gaming. So when the PlayStation came out and he saw the graphics and the kinds of games, I'm sure his mouth dropped and he knew he had to side with PlayStation. But that's only a theory.
You also have to remember too, Nintendo has a wide range of games that cater to a younger audience than games on the PlayStation do. Nintendo has always had that family-friendly label, for the most part, up until recently when they started releasing things like Call Of Duty and the Batman games on the Wii U. Maybe that's another reason my Dad wasn't into Nintendo and I was never able to play The Legend Of Zelda?
Maybe it was the kind of games my Dad liked? Like me, he really enjoyed the games with a strong narrative, solid RPG's or shooters that were full of adventure. Now that I can remember, I don't think my Dad ever played any very cartoon-like, cutesy games like Super Mario or Sonic. Maybe it wasn't his thing.
So because of us never owning a Nintendo console of any kind, I was never able to play The Legend Of Zelda. But now, I think I'm ready. I have a GameCube and a Wii U, what The Legend Of Zelda game should I play first? Where do I even start? Have you ever played a The Legend Of Zelda game, and if not, why? I'm interested to hear if anyone else was duped in their childhood on the game and your recommendations for how I can dive head first into the series.
Your Daily Blend of Entertainment News