Why Battlefield 1 Almost Didn't Happen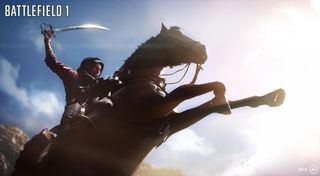 One of the most liked trailers in the history of YouTube and one of the most anticipated shooters due out this fall, almost didn't happen. That's right, Battlefield 1 was almost going to be another sci-fi shooter on the line of Call of Duty: Infinite Warfare if the executives at EA had their way.
According to Gamespot, Electronic Arts executive VP, Patrick Söderlund, was not keen on taking the battle on the field back to World War I. Söderlund mentioned to investors...
Practically the entire gaming community has disagreed with Söderlund's estimation on World War I. The Battlefield 1 trailer has more than 31 million views and 1.6 million likes. The trailer has more likes than most games' lifetime sales. So Söderlund couldn't have been more wrong about people thinking that World War I setting wouldn't be fun to play in, especially considering that his comments left plenty of gamers questioning why an executive who doesn't play video games gets to determine what gamers would consider to be "fun".
In fact, the Electronic Arts executive wanted to head back to the tired sci-fi genre, explaining to investors...
The problem with sci-fi is that it's all played out and played out in derivative fashion. Many of the sci-fi games are copycat clones with little or no innovation on the gameplay front. The only thing that saved Black Ops 3 was the multi-layered, psychological thriller storytelling and the depiction of uncompromising violence.
In the case of Battlefield 1, it's an opportunity to experience something new and unique in an era that hasn't been explored in the mainstream space recently. If DICE delivers on the Calvary combat, World War I dogfighting and the intense melee-oriented fighting that takes place in the trenches, then it's not hard to see this year's iteration of the multiplayer-focused shooter taking a sales lead over Activision's Call of Duty series for the first time in nearly a decade.
Keep in mind that gamers trust DICE, not EA. The Swedish design studio has an impeccable pedigree of exceptionally high quality games, and even where the games may lack in fun they make up for it in their technical excellence, mostly in due part to the Frostbite technology that powers them. As showcased in the Battlefield 1 trailer, a lot of people are excited to see how DICE brings World War I to life through the Frostbite 3 game engine, just as much as they want to play a game that takes them to a completely different setting than what they've been receiving the past couple of years in the first-person shooter space, especially if the more than two million dislikes on the Call of Duty: Infinite Warfare trailer are anything to go by.
Battlefield 1 is due for release on October 21 for the Xbox One, PS4 and PC.
Staff Writer at CinemaBlend.
Your Daily Blend of Entertainment News
Thank you for signing up to CinemaBlend. You will receive a verification email shortly.
There was a problem. Please refresh the page and try again.