Why Final Fantasy 15's Characters All Wear Black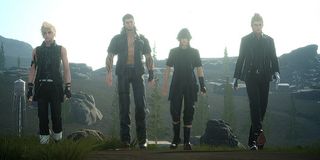 While the Final Fantasy series is typically known for having a rather lively color palette, you may have noticed that the four protagonists of Final Fantasy XV have chosen to emulate the late Johnny Cash, donning black from head to toe. It turns out there's actually a reason for that.
The folks over at Kotaku did some over on the Final Fantasy XV forums, where director Hajime Tabata revealed that the color of the clothing in the game was quite deliberate, rather than lazy.
It turns out he four main characters of Final Fantasy XV are, in fact, members of an extremely popular emo band…Wait, that's not right. Let me check that quote again.
So there you have it. Much like in Game of Thrones, the characters in Final Fantasy XV are all about living up to the culture and expectations of their kingdoms. Tabata goes on to explain that, in the kingdom of Tabita, the color black is kind of revered.
If you've taken a look at any of the promotional material for Final Fantasy XV, you'll likely notice that this particular game feels more somber in tone that some games in the series, so the bleak settings and clothing actually feel right at home. That's not to say the world is devoid of color, though, as things seem to become far more vibrant as the quartet make their way into the wilds of the world. Again, that's probably all by design.
There was a time not too long ago when pretty much every game boasted shades of black, brown and gray. Things have gotten more lively in the past generation, so having a game with bleaker tones pop up from time to time certainly isn't the problem that it once was. Still, would it kill the guys to splash a little color in there with a pocket square or something?
Look for Final Fantasy XV to arrive on the PlayStation 4 and Xbox One sometime in 2016. Until then…
Staff Writer for CinemaBlend.
Your Daily Blend of Entertainment News
Thank you for signing up to CinemaBlend. You will receive a verification email shortly.
There was a problem. Please refresh the page and try again.