Final Fantasy 15 Won't Be Launching In Japan First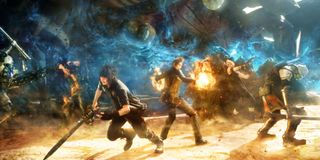 Final Fantasy XV is still coming, everyone. Promise.
In a new interview with GameSpot, Final Fantasy XV director Hajime Tabata confirmed that it will receive a global launch rather than a staggered launch in Japan, then the West, and so on.
This is a massive change from the way things were done in the past, where the games would release in Japan way ahead of the west and tantalize players eager to get their hands on the new product. It's actually much more interesting this way, to throw it out into the world and see how everyone reacts at the same time.
Tabata explained during his interview that he and his team were a little "embarrassed" to talk about it, but this is the first time they've ever done a "packaged, standalone Final Fantasy game with a simultaneous global launch."
With games like Final Fantasy, this is a change I'd like to see take root over the next few years, especially since they're generally wrought with surprises and special plot points that, by the time you play them in English or your preferred language, you've either heard about the previously secret information or the game has been halfway spoiled.
Plus, there's a disconnect between fans that is erased with a worldwide release, and putting the game out for everyone at the same time helps to erase that. It may sound silly, but Final Fantasy fans stand together in solidarity, for the most part, and this gesture means a lot to them, myself included.
In the case of Final Fantasy XV, it will be interesting to see how the game has evolved since its existence as the demo paired with Final Fantasy Type-0 HD. There have been several feedback sessions and alterations have already been implemented. Tabata himself has been very forthcoming about changes and what he plans on changing and seeing out of the game, even naming an airship as something he'd like to include one day if possible, maybe even as DLC in the future.
Recently it was also announced that Final Fantasy XV will be enlisting the help of Avalanche Studios (responsible for Until Dawn and the Just Cause series) for its unique aerial movement system. No doubt there will be other cool things in store as well that we haven't heard anything about just yet, but as little tidbits of information trickle out every day we can piece together from interviews nearly everything we need to know, fortunately.
We've still got no concrete release date yet, though. Feels like this is the beginning of a running joke, doesn't it?
Your Daily Blend of Entertainment News
Thank you for signing up to CinemaBlend. You will receive a verification email shortly.
There was a problem. Please refresh the page and try again.