Witcher 3 Patch Fixes Hearts Of Stone Problems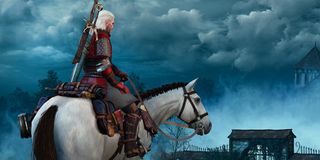 The Witcher 3 players will be getting a new patch to fix several problems with the expansion Hearts of Stone along with the base game. Patch 1.11 is out now on PC and should be coming shortly to PS4 and Xbox One.
The change log for Patch 1.11 isn't nearly as long as Patch 1.1's but it's still a substantial update. There are over a dozen general gameplay fixes for Hearts alone:
Fixes issue whereby glyphs added within Hearts of Stone expansion would disappear from slots subsequent to game being saved and loaded.
Alters difficulty balance of arachnomorphs in quest titled Open Sesame! forming part of Hearts of Stone expansion.
Fixes issue whereby cellar could be looted without fighting archgriffin in quest titled A Surprise Inheritance forming part of Hearts of Stone expansion.
Fixes issue whereby Roach could appear to change into a black mare with Hearts of Stone expansion installed.
Fixes issue whereby some players could not sell anything to Countess Mignole.
Alters difficulty balance of bosses in Hearts of Stone expansion, adding distinct statistics for individual difficulty levels.
Renders selection of items from Hearts of Stone expansion transferable to New Game + mode.
Fixes issue whereby master blacksmiths could craft Venomous Viper set. Said set now craftable only by grandmaster blacksmiths.
Adds resistance to knockdown by Aard Sign to Ofieri Mage in Hearts of Stone expansion.
Fixes issue whereby Enchant effect was removed from armor when armor was transferred into New Game + mode.
Fixes issue whereby arachnomorphs were immune to effects of Dancing Star bomb.
Adds entries for Enchanting feature to Glossary and Tutorials.
Introduces a number of changes to difficulty balance in New Game + mode.
Fixes issue whereby combat could prevent players from unequipping censer item.
There are also a few other tweaks to the expansion included in the patch. For example, you should now be able to complete the "I Wore Ofieri Before It was Cool" Achievement properly. The visuals for rivers and waterfalls have been touched up and you'll no longer encounter rainfall in some indoor locations.
The free DLC packs released after The Witcher 3's launch have been cleaned up as well. A frustrating bug preventing players from completing "Skellige's Most Wanted" has finally been removed. Occasionally unkillable human opponents are also a thing of the past.
CD Projekt also took the opportunity to fix up New Game Plus mode. They adjusted a few items and enemies that weren't scaling properly in this mode. You can now kill a previously invincible enemy in "Contract: Phantom of the Trade Route." Items with a level requirement over 70 are likewise a thing of the past.
Hearts of Stone is the first of two expansion packs for Witcher 3. The expansion's main questline pits Geralt against a bandit leader who's unable to be killed. CD Projekt also included some side activities for you to pursue. They estimate the DLC will take you about 10 hours to complete.
Staff Writer at CinemaBlend.
Your Daily Blend of Entertainment News
Thank you for signing up to CinemaBlend. You will receive a verification email shortly.
There was a problem. Please refresh the page and try again.