Wolf Team Update Includes New Characters, Abilities And Graphics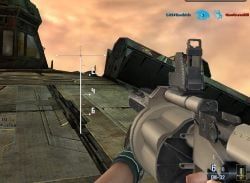 Aeria Games has given the werewolf versus soldier FPS a major update in both the visuals and the characters. Unfortunately for Twilight fans, it doesn't include a Taylor Lautner skin. Oh well, maybe next time emos!
As stated in the press release…
I doubt adding a female character will actually attract female players…not unless a very tall and very pale vampire with an emotional bipolar disorder joins the ranks. Still, for guys who like looking like girls in games, there's always the option to run around with a 3D character that has girl parts.
Nevertheless, new characters aren't the only thing updated in the game; new special bonuses have been included for the characters for players to exercise and take advantage of during the intense deathmatching. A new graphical overhaul has also been implemented for the UI and menu systems.
Gamers who want to get in on the free-to-play, werewolf versus soldier action can do so by visiting the Official Website.
Your Daily Blend of Entertainment News
Staff Writer at CinemaBlend.