World Of Warcraft Patch 6.1 Is Now Live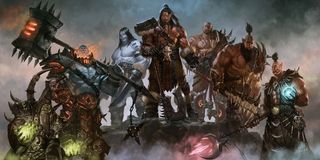 World of Warcraft's Patch 6.1 has arrived. This patch, the first major update to the Warlords of Draenor expansion pack, went live following a few hours of downtime.
"We will be performing scheduled maintenance beginning on Tuesday, February 24, at 3:00 AM PST and we expect the service to be available again at approximately 11:00 AM PST," Blizzard said in an announcement published last night. "During this time the game and many web services will be unavailable."
However, as of this writing, the servers are already back online. Patch day maintenance usually drags on much longer than expected but this time Blizzard actually finished ahead of schedule.
This morning's downtime fortunately didn't affect the race for world first in the Blackrock Foundry raid. One guild manage to down the last boss on Mythic difficulty this weekend. It may have been a nuisance to the various guilds jockeying for second place now, though.
The patch weighs in at a hefty 2.8 GB. The game's technically playable after you download about 200 MB of it, with the rest downloading in the background while you play. The game tends to drag when you play while downloading, though, so it's not a good idea if you plan to do raids or dungeons.
WoW's Patch 6.1 is designed with bored players in mind. It provides several new activities to pursue. Maybe the most important is the next step in the Legendary ring quest line. As you help Khadgar in his crusade against Gul'dan, you'll earn a new Legendary follower for your garrison.
"Some may know Garona from her exploits in Azeroth. This powerful rogue assassin was responsible for the death of King Llane Wrynn," reads Blizzard's preview of the new follower. "Along with her son Med'an, she aided the New Council of Tirisfal in their brutal struggle against the Twilight's Hammer and the evil ogre magi Cho'gall."
Garona will be a useful part of your garrison team right away. She has an item level of 630 and three abilities. Her unique Master Assassin trait will boost the chance of success for any mission she's sent on.
Your garrison will also begin hosting daily visitors provided you've upgraded your base to Tier 3. These visitors will offer you one of these tasks:
Bounty Quests – Group up with two or more additional players to hunt down and defeat a powerful enemy and you'll earn gold and a chance to get an heirloom quest item off of the creature you kill for the quest.
Profession daily – Get your hands on more Primal Spirits, reduce your surplus reagents, and buy the new recipes for crafted upgrades and transmutes.
Relic Quests– Completing these quests will reward gold and ultimately Harrison Jones as a new Follower.
Daily dungeon quests- Daily dungeon quests will reward Garrison Resources.
Weekly Raid quests – These quests will reward gold and an ilevel 645 or 655 token.
Garrison invasions will be undergoing changes as well. A new reward level, Platinum, will provide extra rewards. The final boss for invasions will have a chance to drop an item that lets you summon a raid boss within your fortress. Blizzard warns that you'll need between 10-40 players to beat this raid boss, though.
The patch is also good news for collectors. Pet battlers can earn new pets for their collection by defeating raid bosses in Black Temple, Hyjal Summit or Sunwell Plateau. A new visitor to their garrison's menagerie will offer special rewards as well. A new quest lets players build their own jukebox for their garrison and then expand its collection of songs by collecting Music Rolls throughout the game.
Rounding out Patch 6.1 are a number of new features like an account-wide Heirloom system, racing mini-game and free trial for former players. You can find the full notes for the patch here.
One thing that the patch won't include, though, is flying. Blizzard previously confirmed that the update won't allow players to use their flying mounts to soar through the skies of Draenor. They want everyone to stick to the ground for a bit longer, it seems.
Image credit: Yuka Ham
Your Daily Blend of Entertainment News
Staff Writer at CinemaBlend.