World Of Warcraft Tokens Price And Release Date Revealed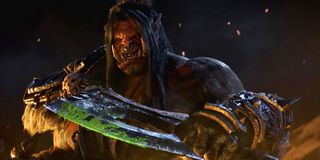 This week Blizzard will introduce World of Warcraft Tokens, an alternative to paying a monthly subscription for the game. The company announced the release date and initial price of this currency on their website today.
"The WoW Token will be going live in the Americas region (North America, Latin America, Australia, and New Zealand) on April 7 when maintenance concludes, at approximately 10 a.m. PDT," Blizzard said. "The WoW Token will be available for $20 USD/$25 AUD from the in-game Shop, and will be set at a starting price of 30,000 gold in the Auction House across the Americas region."
Players will be able to buy and sell World of Warcraft Tokens through a special section of the Auction House. Token sales will be region-wide, as opposed to server-wide like other Auction House transactions. Though Blizzard will be setting the price at first, it will then fluctuate based on supply and demand. Prices will go down if there's a surplus and go up if they're being snatched up quickly.
"To start we'll be limiting the number of Token purchases to 10 within a 30-day period, but this limit may be adjusted over time. While Tokens will be available immediately from the Shop, please note that there may be a delay before Tokens put up for sale on the Auction House become available for purchase with gold."
Tokens can be redeemed for 30 days of game time in WoW. If you want to make gold, you purchase a Token with cash and sell it on the Auction House. If you want to save cash, you spend gold to buy a Token through the Auction House and get to avoid paying your subscription. The system is great news for players who don't have the time or inclination to farm gold in the game and players with a huge surplus of gold that have nothing else to spend it on.
By introducing this new payment option, Blizzard hopes to make the game more accessible to players and also curb shady companies that sell gold for cash in the game.
"I don't know if I would characterise this as in any way being a move away from WoW being a pure subscription MMO," game designer Ion Hazzikostas said last month. "I think it's just offering more access and flexibility in terms of how those subscriptions are paid. At the end of the day, every player in the game has an active subscription or a month of game time that's been purchased by them or someone else in order to play the game. It's just about the dual objective of broadening access and letting people have more flexibility about how they pay while striking a blow against the third-party goldselling market that's been a blight on the game for such a long period of time."
Blizzard has been adamant that they won't be making WoW free-to-play. Tokens are part of their ongoing strategy to make the game easier to play (and keep playing) without removing the monthly subscription altogether. It's also the latest example of the company selling optional items and services to supplement the revenue they receive from subscriptions.
Your Daily Blend of Entertainment News
Staff Writer at CinemaBlend.
Your Daily Blend of Entertainment News
Thank you for signing up to CinemaBlend. You will receive a verification email shortly.
There was a problem. Please refresh the page and try again.