World Of Warcraft: Warlords Of Draenor Collector's Edition Includes Hearthstone Card Back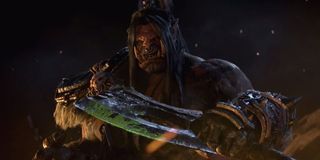 Blizzard loves using new releases to promote other games. World of Warcraft: Warlords of Draenor is no exception. The Warlords of Draenor Collector's Edition comes with exclusive content for several other Blizzard titles, including Hearthstone and Diablo 3.
The Collector's Edition includes StarCraft 2 player portraits based on orc warchiefs Grommash Hellscream and Blackhand. Diablo 3 players will receive a pennant emblazoned with the Warsong clan's insignia. The exclusive Hearthstone card back is an crude construction of wood and steel that looks like orc handiwork:
Blizzard also threw in some exclusive content for WoW, too. Players who buy the Warlords of Draenor Collector's Edition will unlock the Dread Raven mount and Dread Hatchling pet. Both strongly resemble Anzu the Raven God, the boss from The Burning Crusade. Players used to have to kill Anzu over and over for a minuscule chance at getting a mount that looks like him. Now, apparently, they can just buy the Draenor Collector's Edition instead.
Almost all of these bonuses are also included in the $69.99 digital deluxe edition. The sole exception is the Hearthstone card back.
The Warlords of Draenor Collector's Edition also comes with the following physical extras to justify its $89.99 price tag. Here are descriptions of each item via Blizzard:
World of Warcraft: Warlords of Draenor — "Get the full version of Warlords of Draenor on DVD-ROM."
Behind-the-Scenes DVD and Blu-ray Two-Disc Set — "Meet the development team behind the creation of Draenor and its savage warlords. This two-disc set includes over an hour of creators' commentary, insider interviews, and developer roundtables."
Collector's Edition Soundtrack — "Immerse yourself in the sounds of war with the complete Warlords of Draenor orchestral soundtrack on CD."
The Art of Warlords of Draenor — "Witness the visual evolution of the expansion in this beautifully bound tome of exclusive Warlord of Draenor art. Through 160 pages of concept pieces, finished illustrations, and CG images, you'll delve into the art team's vision for a Draenor under siege by the apocalyptic threat of the Iron Horde."
Blackhand Mouse Pad — "Arm yourself with a special-edition mouse pad emblazoned with the deadly warlord Blackhand."
Whether you purchase the standard, digital deluxe or collector's edition of Warlords of Draenor, you'll get a free level 90 boost for one character. This boost instantly upgrades the character to level 90 and outfits them with a set of appropriate gear. This means the character will be ready to dive into Warlords of Draenor's new content right away. Blizzard is also selling character boosts separately for $60 a pop.
Warlords of Draenor's new cinematic trailer announced a November 13th release date for the game.
Your Daily Blend of Entertainment News
Staff Writer at CinemaBlend.