XCOM: Enemy Unknown Now Available For Xbox 360, PS3, PC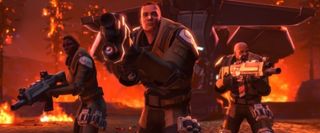 2K Games and Firaxis' turn-based strategy game, XCOM: Enemy Unknown, is now officially available in North America for home consoles and PC. The game will launch internationally later this week on Friday, October 12th.
Sarah Anderson, senior vice president of marketing for 2K commented in the press release about the new game, saying...
The game takes the age-old formula from Micropose's old turn-based strategy series and flips it on its head by adding in new mechanics, updated graphics for today's generation of gaming, new customization, new weapon handling and everything else in between.
Players will command a group of six soldiers per mission into hostile territory infected with an alien menace. The job of the player is to eradicate and exterminate, while at some points also aiming to free or protect civilians.
XCOM: Enemy Unknown also adds the long-requested competitive multiplayer mode to the game, giving old-school gamers a little bit of something to cheer about.
Steve Martin, president of Firaxis Games – and not the Saturday Night Live alum – commented about the reboot, saying...
You can grab a free demo of the game right now for PC and Xbox 360, with an additional demo for the PS3 arriving tomorrow. You can also pick the game up from local retailers for $59.99 on consoles or grab a digital copy for $49.99 on PC.
For more information on XCOM: Enemy Unknown feel free to pay a visit to the Official Website.
Staff Writer at CinemaBlend.
Your Daily Blend of Entertainment News
Thank you for signing up to CinemaBlend. You will receive a verification email shortly.
There was a problem. Please refresh the page and try again.