You Don't Know Jack Now Testing Your Pop Culture Prowess On iOS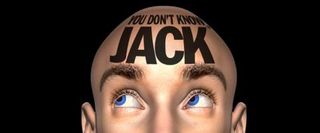 So, you think you know Jack, huh? Well, I've got news for you buddy. You Don't Know Jack. And it's now available as a free-to-play game on iOS. And just in case that somehow went over your head, just know that the extremely entertaining multiplayer trivia game, You Don't Know Jack can now be played on your various iDevices.
Jellyvision Games has announced the official iTunes release (opens in new tab) of You Don't Know Jack, a version of its popular quiz game playable for free on the iPad, iPhone or iPod Touch, which also happens to be compatible with the Facebook version of the game.
"In May, we launched the Facebook version of You Don't Know Jack, looking to combine the party atmosphere of console and PC gaming to the asynchronous social gaming space where people could play wherever they want," said Jellyvision Founder and YDKJ inventor, Harry Gottlieb. "After six months of tweaking the Facebook game, we're ready for the small screen, starting with [iDevices]."
The iOS version of YDKJ comes packed with all of the same features as the Facebook version. Seeing as how the Facebook game recently won the "Best Social Game" honor from the Spike TV Video Game Awards, you can be fairly certain that you'll be diving into an entertaining romp through trivia and pop culture.
Using Facebook Connect, the iOS version of YDKJ will allow you to play directly with your Facebook Friends, challenge them to best your scores and even taunt them in-app.
You Don't Know Jack for iOS is available now as a free-to-play game, which means you get a limited set of plays that refresh after a certain period of time. You can earn additional plays through earning in-game achievements or by picking up token packs for a nominal fee.
Staff Writer for CinemaBlend.
Your Daily Blend of Entertainment News
Thank you for signing up to CinemaBlend. You will receive a verification email shortly.
There was a problem. Please refresh the page and try again.