YouTube Gaming Wants To Challenge Twitch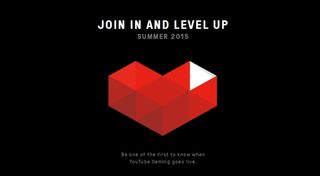 YouTube is going gung-ho into the live-streaming sector for video games this summer. They've put a window on when they want the service to go live and they've done this by allowing the YouTube Gaming website to go live and give gamers a small taste of what's to come.
There's a neat little interactive website that has gone live for YouTube Gaming, and there's an accompanying blog that explains what the giant video service has planned for the interactive entertainment industry when it comes to live-streaming.
As mentioned on the blog post by product manager Alan Joyce...
The post mentions that gamers will be able to favorite games, receive notifications when certain streams start and get recommendations on which channels to keep an eye on.
In addition to this, YouTube is promising high-rate 60fps streaming (for gamers who have the bandwidth and caps to handle it) along with automatic stream conversions, so gamers can convert their live-streams into YouTube videos with ease. This will easily attract a lot of the current streamers on Twitch to at least try out Google... unless, of course, they don't have a Google Adsense account or can't get one. Then again, that's what the mega-partners are for in the YouTube space to help alleviate all the business backend ventures regarding game streaming and Let's Play culture... they'll only take a sizable chunk of the earnings from the Let's Play videos or live-streams for doing so.
According to the post, the YouTube Gaming service will go live this summer for gamers in the United States and in the United Kingdom. This should make an interesting turn of events between the competition of marketshare over live-streams between Google and Twitch.
Additionally, with Twitch recently having passed a ban on all AO-rated games by the ESRB, I wonder if Google will allow AO-rated games to be streamed via YouTube Gaming? If so, then gamers could stream Hatred (if they wanted). There were also previous bans (albeit temporary) handed out on Twitch for games like Senran Kagura because they felt the game was too sexually explicit.
Gamers not wanting to do deal with some of the strict rules and regulations regarding games that are and are not allowed on Twitch may easily help YouTube Gaming gather a strong community of live-streamers.
I'm sure we'll find out just how much freedom gamers will have (or won't have) as the service nears its official start.
In the meantime, you can head on over to the official YouTube Gaming website and click on the different polygons to see a brief animation relating to popular games, from Metal Gear Solid to Mario to The Legend of Zelda.
Staff Writer at CinemaBlend.