How Transplant Will Handle Bash's Loyalty And Dr. Novak's 'Questionable' History In Season 2
By Laura Hurley published
Transplant stars Hamza Haq and John Hannah opened up about Bash's sticky situation with his loyalty to Bishop while Dr. Novak is mixing things up.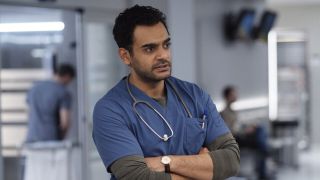 (Image credit: NBC)
Spoilers ahead for Episode 2 of Transplant's second season, called "Jasmine."
Transplant hit the ground running last week with its very long-awaited Season 2 premiere, picking up with the reveal of Bash's mystery woman as well as the aftermath of Dr. Bishop's collapse. In "Jasmine," the emergency department was getting somewhat back to normal, although with newcomer Dr. Mark Novak (played by Gord Rand) seemingly gunning to become the official head of the emergency department, instead of remaining acting head while Bishop is recovering. Stars Hamza Haq and John Hannah opened up about Bash's feelings of loyalty within the ED, and what's on the way with Novak.
The arrival of Dr. Novak has changed up pretty much everything for the returning characters, and "Jasmine" showed Mags continuing to struggle with him calling her out for overworking, June bristling when his "favor" resulted in ruffling the wrong kind of feathers in surgery, and Bash initially disagreeing with his diagnostic processes, while Bishop was recovering and unable to do much of anything. When I spoke with stars Hamza Haq and John Hannah about Season 2, they shared their thoughts on their characters' dynamics with Novak, and how they compare to the Bash/Bishop dynamic. Hannah, who plays Jed Bishop, shared:
Everybody has to adjust to working in an emergency department run by Novak compared to Bishop, but Bash is really the only one whose entire future is in very real jeopardy. He would have been kicked out of the hospital in Season 1 if not for Bishop's staunch support; to contrast, Novak has already dropped comments about Bash arguing with him over cases.
Of course, Novak isn't exactly a villain, but seems to just operate differently than anybody is used to, and he showed in "Jasmine" that he's very skilled as a doctor. His history with Doctors Without Borders came in handy in a tricky diagnosis for a patient who managed to revive himself after being declared dead, although the patient ultimately died (and stayed dead) anyway.
Bash clearly admired Novak for connecting the dots to get to the diagnosis, but he also conferred with Bishop about working under the newcomer. Although Bishop certainly has the history with Novak, he didn't try to undermine him even when Bash seemed pretty ready to complain about him. Hamza Haq shared his perspective on the situation with Novak:
There did seem to be at least a tentative sense of kinship between Bash and Novak after the tricky diagnosis by the end of "Jasmine," and the episode made it clear that Bash's ability to think and treat on his feet is a valuable skill. Like what he did in Season 1, he was helping a doctor friend in Syria via video chat in an emergency (with June pitching in). Novak left Doctors Without Borders, but still has the experience to help in this hospital's ED. Hamza Haq continued:
It sounds like Transplant could have a very unconventional kind of triangle in store in Season 2; instead of one involving relationship drama, there's Bash caught between Novak and Bishop. Of course, we also can't rule out a love triangle either, with Hamza Haq's comments about Rania's arrival coupled with how close Bash became with Mags in Season 1. All things considered, it certainly doesn't seem like Bash's life is going to get less complicated moving forward.
See what happens next for Bash, Bishop, and Novak with new episodes of Transplant Season 2 on Sundays at 10 p.m. ET on NBC in the 2022 TV schedule. If you want to revisit the first season of the medical drama, you can find the full series so far streaming with a Hulu subscription!
Resident of One Chicago, Bachelor Nation, and Cleveland. Has opinions about crossovers, Star Wars, and superheroes. Will not time travel.
Your Daily Blend of Entertainment News
Thank you for signing up to CinemaBlend. You will receive a verification email shortly.
There was a problem. Please refresh the page and try again.