Teen Titans Go! Actors Talk About The 'Irreverent' Animated DC Show's Enduring Popularity Nearly 10 Years After Premiere
Teen Titans Go! has been going strong since 2013.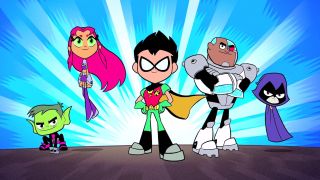 (Image credit: Warner Bros. Animation)
Greg Cipes, Scott Menville, Khary Payton, Tara Strong and Hynden Walch have been respectively voicing Beast Boy, Robin, Cyborg, Raven and Starfire for basically two decades, but they haven't playing the same versions of those characters during that entire time. In 2013, Teen Titans Go! premiered on Cartoon Network, introducing a more comical version of the superhero team compared to the team featured in the original Teen Titans series that ran from 2003 to 2006. Teen Titans Go! is still running almost a decade later, so having had an opportunity to speak four of the five leading actors about their work on the DC movie Teen Titans Go! & DC Super Hero Girls: Mayhem in the Multiverse, I wanted to get their opinion on why the animated DC TV show remains popular after all this time.
I first posed this question to Khary Payton, the voice of Cyborg not just in Teen Titans and Teen Titans Go!, but plenty of other DC projects. Describing Teen Titans Go! as "irreverent," as you can read below, Payton highlighted how the show essentially serves as a mouthpiece for the viewers:
While you'll never see the Teen Titans Go! versions of Robin, Starfire, Cyborg, Raven and Beast Boy getting drunk or high, Khary Payton's comparing the show's shenanigans to what one might recall the morning after a night of partying is strangely fitting. Meanwhile, Greg Cipes, who also voices a more complex version of Beast Boy on Young Justice, highlighted how well the actors and writers work together as the main reason Teen Titans Go! has been so successful:
Next, Scott Menville, the voice of Robin, focused on both the relatability of Teen Titans Go!'s main characters and how innovative the stories are as examples of why the show remains popular:
Scott Menville also said that with Teen Titans Go! airing in a world where people are wanting to post about "the best version of themselves" on social media, this series shows the main characters' "flaws" and "worst personality traits" when they think no one's watching. Finally, we come to Tara Strong, the voice of Raven in Teen Titans Go!. Strong started off by saying how fans were initially disappointed when they learned Teen Titans Go! was not a continuation of the original Teen Titans series, which colored their view on Go! rather than the content of the show itself. After noting how she and the other actors are still interested in returning to the original show, Strong said this:
With 356 episodes and four movies under its belt at the time of this writing (including the theatrically-released Teen Titans Go! to the Movies, which was critically well-received), Teen Titans Go! has had quite the run after almost 10 years, and it shows no signs of slowing down. Those of you reading this who are fans of the series and concur with any or all of the above points should definitely check out Teen Titans Go! & DC Super Hero Girls: Mayhem in the Multiverse (starting with our exclusive clip), which marks the fourth time these two teams have crossed over. That being said, the Titans' role in Mayhem in the Multiverse is pretty unorthodox compared to your average superhero crossover, but Khary Payton, Greg Cipes, Scott Menville and Tara Strong got a kick out of it.
Warner Bros. Home Entertainment's Teen Titans Go! & DC Super Hero Girls: Mayhem in the Multiverse can be purchased on Blu-ray, DVD and Digital HD now, and has also premiered on Cartoon Network. HBO Max subscribers can stream the movie starting on June 28.
Your Daily Blend of Entertainment News
Connoisseur of Marvel, DC, Star Wars, John Wick, MonsterVerse and Doctor Who lore. He's aware he looks like Harry Potter and Clark Kent.