A Bollywood Actor Was Attacked By A Man With A Hatchet Outside A Planet Fitness
What a horrifying series of events.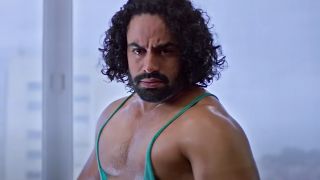 (Image credit: Holy Basil Films)
Life imitated art when actor Aman Dhaliwal found himself in a situation that felt pulled straight from the silver screen of one of his best action movies. The famous Bollywood and Punjabi (also known as Pollywood) performer found himself the focus of an assault by a man wielding a knife and a hatchet and being held hostage outside of Planet Fitness, not far from Los Angeles.
Deadline reports the model-turned-actor is recovering from multiple stab wounds today after a man wielding a hatchet and knife attacked him outside the popular workout location. Dhaliwal was assaulted at about 9:20 a.m. Tuesday in the parking lot of a Planet Fitness by a man Corona police identified as Ronald Chand, 30, of Santa Ana. The two men ended up inside the gym, where Aman was held at knifepoint while the assailant threatened others. The victim eventually fought back, subduing and detaining the assailant with the help of bystanders. The shocking series of events were caught on camera, and the video, posted by ABC7, can be viewed below.
In the intense video you can see, despite his numerous wounds, Aman Dhaliwal was able to keep a firm hold on the hatchet his attacker was wielding, and keep his eyes open for a chance to disarm his assailant of the knife. That time comes whenever Chand turns his back for a fraction of a moment, giving Dhaliwal a chance to take him to the ground, where fellow gym members can jump in to provide aid in keeping the man detained until the authorities could be called.
The Indian-born actor sustained several stab wounds to his upper body during the incident and was transported to a local hospital for medical treatment. According to authorities, the performer's injuries were non life-threatening, and he has since been released.
The attacker sustained minor injuries while being held down and also was hospitalized for treatment. Police say that Chand was sent to the Robert Presley Detention Center after being discharged and booked for attempted murder. His bail has been set at $1 million.
A model-turned-actor, Dhaliwal, was discovered by a modeling agent in a hair saloon in Delhi. His acting career began under film director, actor, and screenwriter Ashutosh Gowarikar. He has since appeared in numerous Punjabi and Hindi films, including Ik Kudi Punjab Di and Ajj De Ranjhe, and such local TV shows as Ishq Ka Rang Safed, Porus, and Vighnaharta Ganesh.
We here at CinemaBlend are happy to hear Aman Dhaliwal's injuries were not life-threatening, and we wish him the best as he continues to heal.
Suppose you would like to get a bit more familiar with Aman Dhaliwal's work. In that case, one of his first films, the Hindi-language epic historical romantic drama Jodhaa Akbar, is available to stream. All you need is a Netflix subscription. Our readers might also be interested in getting to know a bit more about Indian cinema in general, especially after the Oscar nomination of RRR, so might I suggest our article on the difference between Bollywood and Tollywood?
Your Daily Blend of Entertainment News
Ryan graduated from Missouri State University with a BA in English/Creative Writing.