Channing Tatum Recalls The Embarrassing Comment He Made When He Met Matt Damon, And Why He 'Almost Didn't Recover' From It
I also would have acted this way.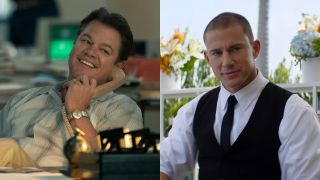 (Image credit: Amazon and Warner Bros)
Let's start here: If I met Channing Tatum or Matt Damon I would not be OK; they are two fabulous actors at the top of their games, and they seem like pleasant folks to be around. Well, it turns out Channing Tatum is in a similar boat, as he recently admitted he was extremely nervous the first time he met Matt Damon, and said he was so embarrassed by what he said he "almost didn't recover."
This interaction happened back in 2011, so before 21 Jump Street and Magic Mike, Tatum was working with Damon on one of Steven Soderbergh's movies called Side Effects. The actor recalled the story about meeting the Oscar-winning actor and writer, noting how funny it was, but also how embarrassing it was for him at the time. Tatum told People:
He makes a good point, it's hard to not know where Damon is from. The Good Will Hunting star and his BFF Ben Affleck are famously from Boston, and Tatum knew that, however, he asked the question anyway. The Magic Mike star continued the story, recalling how mortified he was in the moment, saying:
I feel you man, I also would have said something silly like this if I met any member of the Ocean's Eleven cast, especially Matt Damon. Luckily, The Martian actor was very friendly, and he didn't question Tatum's silly quandary. The Logan Lucky star continued the story, explaining:
Tatum finished the story by saying he still talks to Damon from time to time, and he "sort of [keeps] it together today."
It's fun to know that actors also get nervous around other actors they look up to. Considering both men have made massive marks in the film industry, and they both have big releases on the 2023 movie schedule, it's funny to think Tatum would be so gobsmacked by meeting Damon. However, it makes total sense, and I wouldn't be shocked if The Bourne Identity also had some stories about being starstruck, and saying something like his Side Effects co-star did.
Lucky for us, both Damon and Tatum have exciting movies coming out this year, with the third installment in the Magic Mike trilogy hitting theaters this weekend (the other two are available with an HBO Max subscription), while Damon and his pal Ben Affleck's movie Air released its first trailer with a release date of April 5. Hopefully, we'll get to see the two actors in a movie together sometime in the future, and maybe this time Channing Tatum will be able to play it cool with Matt Damon.
Your Daily Blend of Entertainment News
Riley Utley is a Weekend Editor at CinemaBlend. She spent many years working in local journalism across the country writing about art, news and sports. One of her favorite films is When Harry Met Sally and she walks around constantly quoting Ted Lasso.