Drag Me To Hell 2? Sam Raimi Offers Exciting Update For Horror Fans
We can only hope Raimi will decide to direct if this sequel makes it off the ground.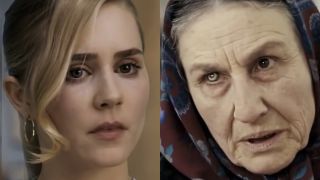 (Image credit: Universal Pictures, Lionsgate, Ghost House Pictures)
Sam Raimi has joined forces with critically claimed A Quiet Place writers Scott Beck and Bryan Woods to produce the upcoming original sci-fi thriller 65, starring Adam Driver. The movie follows a time traveler who crash lands on an unknown planet, only to discover he is stranded on prehistoric Earth, left to battle dangerous dinos while protecting a child. It sounds like a heck of a time at the cinemas! While promoting the 2023 new movie release, the filmmaker gave an unexpected but exciting update horror movie fans will love, especially if they're fans of his 2009 cult classic, Drag Me To Hell.
While doing press, the filmmaking team behind the sci-fi dinosaur nail-biter sat down for a Reddit AMA to answer fans' burning questions. One user shared his love for Raimi's horror comedy while asking the legendary Spider-Man director if "there were any chance of a sequel" or story set in the same universe as the first Drag Me to Hell. The movie maker shared a glimmer of hope with the fan by revealing that the team at Ghost House Pictures (Raimi's production company and the one behind the first flick) is actively trying to develop a story for a potential follow-up. He wrote:
Drag Me to Hell is a 2009 horror movie directed and co-written by Sam and his brother Ivan. It stars Alison Lohman as Christine Brown, a loan officer who an elderly bank patron curses after choosing not to extend her mortgage. Christine, with the help of her boyfriend Clay (Justin Long), has three days to lift the curse before being dragged to the fiery pits of hell.
The cult classic was Raimi's first film after his Spider-Man trilogy, earning over $90 million at the worldwide box office, tripling its estimated budget in ticket sales. It was also a critical success upon release, garnering an impressive 92% on the review aggregator Rotten Tomatoes. Many reviewers praised Raimi for his ability to balance the campy humor and the scares. But any lifelong fan of all the Evil Dead movies knows that is what the director does best.
Next up for Sam Raimi is Evil Dead Rise, the fifth installment in the iconic horror franchise on which he served as an executive producer. While we still don't know everything about the forthcoming flick, we know (amongst other things) that the movie brings the Deadites out of the cabin in the woods and into the big city. The story is reportedly much more of a family story than in past installments. Still, if the red band trailer is any indication, the movie won't be for everyone because audiences are in for one violent and spine-tingling ride worthy of the Evil Dead title.
If and when Drag Me Hell 2 makes it onto our schedule of upcoming horror movies, CinemaBlend will make sure to update you. Sam Raimi's most recently produced film, 65, roars into cinemas on March 10. Make sure to check your local listings for show times.
Your Daily Blend of Entertainment News
Ryan graduated from Missouri State University with a BA in English/Creative Writing.