'Jurassic Park' Meets 'Alien': Talking '65' With Filmmakers Scott Beck & Bryan Woods
We sit down with the filmmakers behind 65, starring Adam Driver.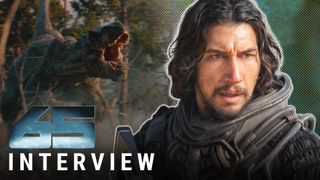 (Image credit: Sony Pictures)
Filmmakers Scott Beck and Bryan Woods, the writers behind "A Quiet Place" join the show to discuss their new film 65, starring Adam Driver and Ariana Greenblatt. They discuss the challenge of differentiating their film from something as iconic as Jurassic Park, being inspired by the likes of Star Wars, Alfonso Cuarón, and more. We also discuss their upcoming adaptation of Stephen King's Boogeyman and its triumphant shift from a streaming release to now getting a full theatrical run this summer.
Want More ReelBlend?
Sign up for our premium membership, which includes an extra episode a week, a bi-weekly newsletter from Sean, and ad-free episodes. Also, be sure to subscribe to ReelBlend on YouTube for full episodes of the show in video form. Finally, we have all kinds of fun merchandise for dedicated Blenders to flaunt their fandom with pride.

Your Daily Blend of Entertainment News
Video Producer & Podcast Lead
Gabe studied Film & Photography at Webster University. He currently spends his free time looking like a fool trying to play Ice Hockey (a recently acquired hobby), playing video games, and watching every movie starring Dwayne "The Rock" Johnson. Dwayne, if you're reading this...he sends his love.