Eli Roth's Grindhouse Thanksgiving Movie Is Really Becoming A Thing, And A TikTok Star Is Attached
Looks like we will finally have the "stuffings scared out of us," as promised, and I can't wait.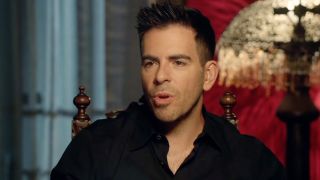 (Image credit: RLJE Films, Shudder)
In 2007, Robert Rodriguez and Quentin Tarantino released Grindhouse, an experimental/double-feature experience featuring full-fledged fake trailers sandwiched between the two headlining movies, Planet Terror and Deathproof. The trailers included Machete, directed by Robert Rodriguez, Thanksgiving, directed by Eli Roth and many others. It may be hard to believe, but 16 years after Grindhouse was released in cinemas, Roth's holiday pseudo-slasher will follow in Machete's steps and get the big screen treatment. With each passing day, The Green Inferno director's next project seems to be getting more exciting because now it's been reported that TikTok star Addison Rae has joined the upcoming horror movie.
According to Deadline, Eli Roth's cast for Thanksgiving looks to be getting bigger and a bit more contemporary, as sources tell the outlet that Addison Rae has joined the film's cast, joining the likes of Patrick Dempsey. Spyglass Media is set to produce the bloody flick, with Roth in the director's chair and script duties going to Jeff Rendel, with the movie set to begin shooting in March.
The Giallo films of Italy heavily inspired Roth's original Thanksgiving trailer. It depicts a black-gloved slasher dressed like a pilgrim who terrorizes the inhabitants of a Massachusetts town that makes a big deal over the annual turkey day. The filmmaker's fake slasher was so popular from the get-go that rumors have been circulating for the last 15 years about the feature-length version of the film. However, the project never materialized until now. Thanksgiving's 2007 trailer is a fun and brutal send-up of 70s grindhouse horror and is worth watching.
The trailer is a reasonably good mix of self-aware camp and stomach-turning gory goodness. I mean, a head-lopping pilgrim slasher killing in broad daylight? Sign me up!
It's unclear what role Addison Rae will play in Roth's holiday slasher. However, the social media star recently signed a massive multi-million dollar deal with Netflix that rivals any major A-lister's agreement with the streamer. Given her global status as an influencer and the success of her last film, He's All That; it's not hard to imagine she may be set to take up the role of Roth's final girl.
It was reported earlier this year by Deadline that Eli Roth left the production of the Borderlands film early to begin production on Thanksgiving. According to the outlet, he left two weeks of reshoots in the hands of Deadpool director Tim Miller. The director seemed eager to get the ball rolling on his killer pilgrim film.
Only time will tell whether Thanksgiving will be a worthy slasher in the vein of some of the best horror movies set on a holiday, like Halloween, My Bloody Valentine, or Friday the 13th. If there are any updates concerning the flick's release, CinemaBlend will update you. Until then, check out our list of 2023 new movie releases to make plans for your next trip to the cinema.
Your Daily Blend of Entertainment News
Ryan graduated from Missouri State University with a BA in English/Creative Writing.