How Bruce Willis' Daughter Scout Is Feeling After The Willis And Moore Families Shared The Health Battle The Die Hard Actor Is Facing
This is all so heartbreaking.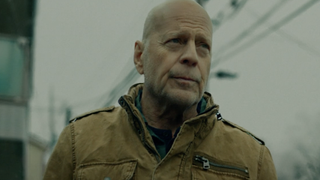 (Image credit: Lionsgate)
In March 2022, Bruce Willis' family announced that the actor would be retiring due to being diagnosed with the cognitive disorder aphasia. Many were sad to hear that news as well as the more recent confirmation that the Die Hard actor's health issues have only gotten worse. Tragically, Willis' family issued a statement early this week revealing the retired actor's diagnosis had been updated to include a more specific identification, frontotemporal dementia. After the unfortunate news was shared by the family, The Sixth Sense star's daughter, Scout, shared how she's feeling amid her father's health battle.
Scout LaRue Willis took to her Instagram Stories (via Page Six), where she updated her fans on how she's handling the news of her father's health. The actress and singer-songwriter, dressed comfortably in a hoodie, said she feels "emotionally tired" but shared some optimistic thoughts as well. She wrote:
Who can blame the musician for feeling tired and overwhelmed in the face of the updated diagnosis? According to the Alzheimer's Association, frontotemporal dementia is when nerve cell loss in the brain's frontal or temporal lobes "causes deterioration in behavior, personality, and/or difficulty with producing or comprehending language." However, speech is sadly only one aspect of how the disease will affect the actor. The form of dementia that Bruce Willis has can also be responsible for a change in behavior and affect judgment, empathy, compulsivity, and even eating habits. Needless to say, it's a tragic update for the star and his family.
Scout Willis wasn't alone in her post. Her sisters, Rumer and Tallulah, re-shared her Story on their personal accounts and echoed their gratitude with fans' showing of support.
Bruce Willis' middle child, with ex-wife Demi Moore, wasn't the first to speak out about how it has been adjusting to Willis' health issues. His wife, Emma Heming Willis, has spoken in the past about the difficulties of taking care of her family's needs and finding a balance between taking care of them while also not forgetting to take care of herself. Months after Willis' diagnosis was announced, Heming Willis said she wants to try to be her best self for the people she loves and her well-being.
While Emma Willis has been very candid about taking care of her husband while he adapts to his updated diagnosis, she has also shared the more pleasant times she's still able to have with him. This includes sharing new photos taken days after his retirement and an adorably sweet Father's Day photo of Bruce at the bottom of a family dogpile. The images are a pleasant reminder that even though the family is dealing with an unimaginable sorrowful set of hurdles, they don't forget to enjoy the little moments as a family.
We at CinemaBlend wish the best for Bruce Willis, Scout, Emma and their family as they navigate the actors' updated diagnoses and the disease's progression. Fans who wish to celebrate the actor and some of his finest work can check out our list of his Willis' best movies and how to watch them.
Your Daily Blend of Entertainment News
Ryan graduated from Missouri State University with a BA in English/Creative Writing.