I Thought Creed III Handled Rocky Balboa's Absence In The Best Way Possible
This was the first movie in the Rocky franchise not to feature Sylvester Stallone.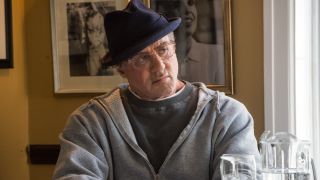 (Image credit: MGM)
Warning: MAJOR SPOILERS for Creed III are ahead! You've been warned.
Creed III was a unique movie in the Rocky franchise, and not just because along with reprising Adonis Creed in front of the cameras, Michael B. Jordan made his directorial debut with the threequel, where he avoided saying 'action' and 'cut' as much as possible. This was the first time in the franchise 47-year history that Rocky Balboa himself, Sylvester Stallone, did not appear in one of the installments. Granted, we'd known for a while that Stallone wouldn't be present in Creed III, but with the movie now open to the public, those who've seen it know that the reason Rocky isn't around isn't even brought up in lines of dialogue. And honestly, I think this was the best way to handle the situation.
Would it have been nice to have learned why Rocky Balboa wasn't in Adonis Creed's life during the events of Creed III? Sure, I certainly wouldn't have turned that down. That being said, Creed II already laid enough groundwork for Rocky absence from Creed III. For one thing, after Donnie beat Viktor Drago in the movie's climax, he was seen celebrating in the ring with Tessa Thompson's Bianca, Wood Harris' Little Duke and the other trainers. However, when Donnie gestured for Rocky to join them, he declined and instead decided to watch the festivities seated outside of the ring. You can revisit this moment below.
The first Creed movie brought Donnie and Rocky together, and the former still needed the latter's help when it came to defeating Viktor Drago, son of Ivan Drago, the man who killed his father, Apollo Creed. But after that victory happened, there was nothing else left for Rocky to teach Donnie. The time had come for him to step back and let Donnie embark on a new chapter of life, and much like what happened with Rocky itself, that involved Donnie stepping away from boxing on a regular basis. Sure, he got back in the ring to exchange punches with Jonathan Majors' Damian Anderson, but other than that, he's a dedicated family man and focused on training/promoting other boxers. He doesn't need Rocky around to do that.
Furthermore, the ending of Creed II saw Rocky beginning his own new chapter. Although Rocky and his son Robert were on good terms by the time 2006's Rocky Balboa wrapped up, audiences learned in Creed that Robert had moved to Vancouver with his girlfriend, and it was implied this was because Robert was tired of living in Rocky's shadow in Philadelphia. By Creed II, it was abundantly clear that Rocky and Robert have been estranged for a long time, as the former hadn't even met his grandson, Logan. But after patching things up with Donnie after their split of several months, as well as seeing Ivan throwing in the towel on that final match to spare his son from further harm, Rocky knew it was time to reconnect with his own son and meet Logan, so he headed to Vancouver to do so.
Which brings us back to Creed III, where only mention of Rocky is when Donnie references Rocky and Apollo's first match as a way to tout Damian as a worthwhile opponent to pit against Felix Chavez, and it made for another 'underdog vs. established champion' event. So Rocky's still fondly remembered in this franchise, but this is, after all, the Creed film series. Michael B. Jordan's character will always be the main attraction, and while it was nice to have Rocky around, we don't want him to overshadow the lead protagonist. Like Jordan said, it's the dawn of a new era.
Creed III didn't need to address Rocky Balboa's absence because we already had all the information we needed. It's unclear whether that visit to Vancouver was only for a few days or if he decided to permanently relocate there, but either way, Rocky has reestablished ties with his family, while the beginning of Creed III showed Donnie running the Delphi Boxing Academy with Little Duke and being a loving father and husband. Sometimes people just go their separate ways, but since there was no outright mention of Donnie and Rocky having another falling-out, we can presume they're still on good terms, and Donnie simply didn't feel the need to involve his father figure in his clash with Damian.
Frankly, the only reason I would've wanted Rocky Balboa to be mentioned in Creed III is if we learned that he'd died, although that still would have been disappointing. Ideally Rocky passing away is something we would see happen onscreen, like some fans suspected would occur in Creed. However, at this point that's nowhere near guaranteed. The seventh Rocky movie that Sylvester Stallone announced in 2019 doesn't appear to be moving forward, and though Creed IV is happening and other spinoffs are in development (including one focused on the Dragos), there's no reason to think Rocky's presence would be needed in any of those projects. Stallone has also expressed his displeasure in recent months over not owning any of the rights to the Rocky franchise, which could mean his time appearing in it is permanently over.
Again though, we didn't need any clarification over how things are going for Rocky Balboa these days, and a mention/depiction of his death aside, we don't need any clarification going forward. Rocky got a decent happy ending in Creed II, and the positive critical reception Creed III has received shows you can have a successful movie in this franchise without Rocky involved. He'll always be a beloved cinematic character, but just like Donnie was told at the end of Creed II, it's his time now. I wouldn't turn down the opportunity for Stallone to play Rocky one finale time, but I'm also content with where we've left off with him.
Be sure to read CinemaBlend's review of Creed III and our thoughts on why at least a decade should pass until Creed IV is made. But if MGM ends up announcing specific details about the next movie much sooner than that, we'll pass them along. Until then, continue visiting us for the latest and greatest news about the 2023 new movie releases and what's being lined up for 2024 and beyond.
Your Daily Blend of Entertainment News
Connoisseur of Marvel, DC, Star Wars, John Wick, MonsterVerse and Doctor Who lore. He's aware he looks like Harry Potter and Clark Kent.