Idris Elba Set The Record Straight After Some People Were Unhappy With Comments He Made About How Being A Black Actor Put Him 'In A Box'
After people weren't happy about Idris Elba's comments on not wanting to be labeled a Black actor, he decided to set the record straight.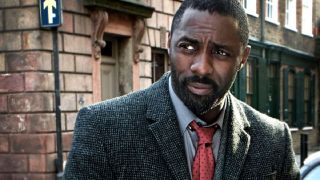 (Image credit: BBC)
Idris Elba has shown a ton of much talent and range in his acting career. This spans his breakout role in the HBO drama series The Wire to nailing parts in Beasts of No Nation, Luther, Pacific Rim, and more. With so many people asking him to be the next James Bond, he would be considered the first Black actor to portray the 007 spy. But after experiencing backlash in not wanting to call himself a "Black actor" anymore, Elba has decided to set the record straight on that.
The entertainment industry has significantly changed ever since the Academy Awards recognized Gone with the Wind's Hattie McDaniels as the first Black actress to be nominated and win an Oscar in 1940, where she was forced to sit away from her white co-stars. Now unforgettable breakthrough performances by Black actors have been widely celebrated for their triumphs in what used to be a predominately white business. So you can imagine the backlash Idris Elba received when he said during an interview with Esquire UK that being called a "Black actor" put himself "in a box." A few days later, he took to Twitter to further elaborate on what he meant by those controversial comments.
The British actor is seemingly stating that he doesn't deny his race as a Black man, but just doesn't want his career to be defined by it. But if others choose go the opposite route, that's their choice. The reactions on Twitter towards the Beasts of No Nation actor's recent comments have been mixed. Some have expressed "disgust" in feeling Elba is not using his platform to speak up for his race and how he's "dissociating" from his Blackness. Others on the social media site see that while the Luther actor clearly recognizes himself as a proud Black man, he just wants his profession to shine without his race being the center of everything.
When Esquire UK interviewed Idris Elbra, he was asked about his childhood in the predominantly white yet ethnically diverse London borough of Hackney. But while answering this question, he stopped himself to ask why people find his race "fascinating." This high-grossing actor elaborated in the interview on the importance of not allowing a person's skin color to define everything.
Idris Elba continued to talk about how his intentions to be an actor had nothing to do with his race, but just because he was interested in the profession. While there are many who feel proud about opening doors and being a source of representation, the Golden Globe winner wants his work to speak for itself. What's next on this talented actor's to-do list is to star in the upcoming Luther movie, The Fallen Sun, reimagined for the big screen. In this follow-up to his iconic crime series Luther, Elba is back as DCI John Luther who will break out of prison to hunt down a serial killer on the loose in London. With this being his first live-action movie since Beast and the acclaim the Luther series has received during its five-season run, you can be sure audiences will be tuning in to see this one.
While the words of this award-winning actor may have hit a nerve with a lot of people, he still has plenty of fans who commend him for the significance of wanting to be viewed as a person who acts for a living rather than allowing race to define him. You can find the film continuation of Luther: The Fallen Sun to be released in select theaters on February 24th and on your Netflix subscription on March 10th.
Your Daily Blend of Entertainment News
Just your average South Floridian cinephile who believes the pen is mightier than the sword.