Gone With The Wind's Hattie McDaniel: 6 Things To Know About The First Black Oscar Winner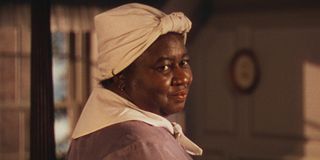 Throughout her vastly accomplished career, Hattie McDaniel overcame many adversities as a pioneer in a growing entertainment field. Most notably, through her memorable performance in 1939's Gone with the Wind, McDaniel became the first Black Oscar winner. As a comedian and singer-songwriter in addition to her other credits, the actress went to great lengths to build a legacy and a robust career for herself. But in the process, she faced many different challenges, battling racism and segregation even during her greatest achievements. While the actress was a barrier-breaker in her profession, McDaniel's career was defined by her difficulties and struggles. With that, here's what you should know about the Oscar-winning actress.
Hattie McDaniel Was The First Black Woman To Sing On U.S. Radio
In a career full of triumphs, one of Hattie McDaniel's greatest career achievements was being the first Black woman to sing on United States radio. According to History Colorado, McDaniels appeared on Denver's KOA, where she performed as a radio personality. Her vocal performances were a trendsetter, allowing the actress to build her career as a radio star, then a television actress, then eventually a movie star. Additionally, outside of acting, McDaniel recorded 16 blue sides between 1926 and 1929. Alas, only eight were issued.
The Actress/Musician Has Two Stars On The Hollywood Walk Of Fame
As a distinguished actress and musician, Hattie McDaniel has the honor of holding not one, but two Hollywood Walk of Fame stars to her name. The star located on 6933 Hollywood Boulevard is for her contributions to radio, while the one found at 1719 Vine Street is devoted to her career in motion pictures. In addition to these honorary achievements, McDaniel was inducted in the Black Filmmakers Hall of Fame. She also became the first Black Oscar winner to be honored with a U.S. postage stamp in 2006.
Hattie McDaniel Wasn't Allowed To Attend Gone With The Wind's Atlanta Premiere Since It Was Held At A Whites-Only Theater
Having faced prejudice and segregation throughout her life and career, Hattie McDaniel continued to face adversities during the release of Gone with the Wind. Specifically, while the actress played a key role in this Oscar-winning melodrama, McDaniel wasn't permitted to attend the Atlanta premiere, as it took place at Loew's Grand Theater, which was a whites-only establishment. While her co-star, Clark Gable, threatened to boycott the premiere unless McDaniel was allowed to attend, the actress reportedly talked the actor out of his protest. While she was unable to take part in this event, she was allowed to attend the Hollywood debut on December 28th, just a few days after its Atlanta premiere.
Hattie McDaniel's Oscar Win
On February 29th, 1940, at the 12th annual Academy Awards, Hattie McDaniel took home the Oscar for Best Supporting Actress for her performance in Gone with the Wind, becoming the first Black Oscar winner in the awards show's prestigious history.
She Was Also The First Black Oscar Nominee
In addition to being the first Black Oscar winner, Hattie McDaniel also had the distinction of being the first Black Oscar nominee for her role in Gone with the Wind.
Hattie McDaniel Was Seated Separately From Her Co-Stars At The Oscars
While this ceremony was a historic evening for the annual awards show, Hattie McDaniel was still facing oppression during this ceremonial evening. The awards show took place at the Ambassador's Cocoanut Grove nightclub, which was whites only. The hotel allowed the actress to attend the event, but instead of sitting with Gone with the Wind's cast and crew, McDaniel was escorted to a segregated table, thus not allowing the recognized actress to celebrate with her collaborators on this prestigious evening.
Her Oscars Speech
In her speech, Hattie McDaniel considered this recognition to be "one of the happiest moments" of her life, and she thanked everyone who played a part in her win that evening. McDaniel claimed that accepting this award made her "very, very humble," and the actress noted that she will "hold it as a beacon for anything that I may be able to do in the future." She later stated that she sincerely hopes that she will "always be a credit to my race and to the motion picture industry." And McDaniel concluded her speech by claiming her heart is "too full to tell" everyone just how she felt in that special moment. After whipping away a few tears from her eyes, the Oscar-winning actress left the podium. Here's the acceptance speech in full:
The Whereabouts Of Hattie McDaniel's Oscar Remains Unknown
Unfortunately, the whereabouts of Hattie McDaniel's Oscar remains unknown. The award — which was previously a plague, before it became a statue —went missing (or it was misplaced) from Washington's Howard University many decades ago. It's believed that McDaniel's award vanished from this location either in the late '60s or the early '70s. In any case, the Oscar's current placement is a mystery — even to this day.
Hattie McDaniel Appeared In 300 Films But Only Received Screen Credits For 80
In a stunningly prolific career, Hattie McDaniel provided many cinematic turns. 300 films, to be exact, though she received credit for less than a third of her big-screen appearances. Specifically, McDaniel was credited for only 80 film roles total, resulting in less recognition than the film actress deserved.
Hattie McDaniel Wasn't Permitted To Be Buried In Hollywood Cemetery, But She Has A Memorial There
While Hattie McDaniel remained a pioneer and a barrier-breaker throughout her long and extensive career, the Oscar-winning actress continued to face many hardships throughout her life. Even, sadly, at the very end. As a dying wish, McDaniel wanted to be buried at Hollywood Memorial Park, which has since been renamed Hollywood Forever. Though she created an extraordinary career for herself in Hollywood, the cemetery didn't allow a Black woman to be buried in their property. Thus, McDaniel's parting wish was denied. While this final blow is devastating, it should be noted that in 1999, the new owner of Hollywood Forever Cemetery took it upon himself to honor McDaniel's hard-fought legacy by commissioning a memorial for the late actress. While she isn't buried in this cemetery as she wished, she will at least be remembered there.
It's apparent that Hattie McDaniel lived a life full of great triumphs and grave hardships. Her groundbreaking achievements prove to be immense, but the challenges she faced in the process were undoubtedly daunting. Her legacy, thus, was defined by several adversities and many complications.
Your Daily Blend of Entertainment News
Will is an entertainment writer based in Pittsburgh, PA. His writing can also be found in The Playlist, Cut Print Film, We Got This Covered, The Young Folks, Slate and other outlets. He also co-hosts the weekly film/TV podcast Cinemaholics with Jon Negroni and he likes to think he's a professional Garfield enthusiast.
Your Daily Blend of Entertainment News
Thank you for signing up to CinemaBlend. You will receive a verification email shortly.
There was a problem. Please refresh the page and try again.