It Ends With Us Movie: What We Know About The Colleen Hoover Adaptation
It starts with casting news...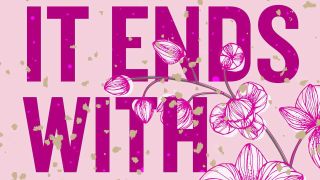 (Image credit: Simon and Schuster)
It Ends With Us is one of the most well-known novels published in the last decade. Even if you haven't read this Colleen Hoover book, you probably at least know something about it, because it's constantly starting book discussions and is frequently on BookTok. Now that the movie is in the works with Justin Baldoni and Blake Lively starring, anticipation for it has just increased.
Currently, this Colleen Hoover book is one of the book-to-screen adaptations with the most buzz. Everyone wants any little detail possible about it, so let's share what we know so far about the It Ends With Us movie.
The It Ends With Us Premiere Date Is Unknown
There has been no official release date for the It Ends With Us movie, and filming is likely still a while away from starting. In September 2022, Blake Lively and Ryan Reynolds announced Lively's pregnancy with their fourth child. In January 2023, she showed off her baby bump on Instagram while working with her personal trainer.
Because we don't know Lively's due date, filming likely won't begin anytime soon. She also has a few upcoming projects, including her feature film directorial debut, and the sequel to A Simple Favor, either could delay the filming of It Ends With Us even further.
Production can start anywhere from a few months from now (February 2023) to a few years from now.
Of course, we will report if It Ends with Us becomes part of the 2023 new movie releases, so make sure to monitor our site for updates.
It Ends With Us Stars Justin Baldoni And Blake Lively
In January 2023, Deadline reported that Justin Baldoni and Blake Lively would star in the film. Colleen Hoover also went on her Instagram to confirm that Lively plays Lily, the main character of It Ends With Us. Justin Baldoni plays Ryle, one of the main male leads and one of Lily's love interests.
Lively may best be known for her role as Serena van der Woodsen on The CW's Gossip Girl. She has also appeared in the movies The Town, Savages, The Age of Adaline, A Simple Favor, and The Sisterhood of the Traveling Pants movies. Baldoni is best known for his role as Rafael Solano on Jane the Virgin. He has also had roles in the TV shows Everwood, Heroes, Single Ladies, Happy Endings, and Madam Secretary.
These are the only two confirmed cast members as of February 2023.
The Backlash Following The Casting Announcement
Lively joining the cast of It Ends With Us caused some controversy for a few reasons. One is that fans of the book thought she was miscast as Lily because she's 35, as opposed to her character's 23 years. The biggest reason for backlash, though, involved the book's subject matter, as it's about domestic abuse. Some who criticize the book feel it glorifies domestic abuse and romanticizes abuse and abusers, and the actress' fans did not want her associated with what they think the story represents.
Atlas Corrigan Has Yet To Be Cast
The story sort of has a love triangle. Lily has two male love interests. The first is Ryle and the second is Atlas. Fans of the book will be waiting anxiously to see who joins the cast as Atlas.
Because Baldoni and Lively joined the cast in January 2023, casting news for Atlas may come out within the first few months of 2023. He has a key role in It Ends with Us, but he's not the only important casting left for the film.
Younger versions of Atlas, Lily, and Lily's parents are probably critical roles still left to cast. Older versions of Lily's parents also have important parts, as does Lily's friend Allysa, and all of these are key roles yet to have any sort of casting announcement.
Basically, most of the cast is still unknown. However, since the two leads are set, then more actors may be announced soon.
It Ends With Us Is A Story About Domestic Violence
The book follows Lily as she meets Ryle, a handsome surgeon. The first half of the story explores their meeting and falling in love, while the second half deals with their relationship. The book also dives into Lily's memories of her abusive father and the abuse her mother endured for years.
She is coping with her feelings about everything, including her complicated emotions about her now-deceased father. Her first love, Atlas, also returns to her life and becomes a welcomed addition during a difficult time.
I don't want to go too into spoiler territory for those who have not read the book. However, make sure to observe trigger warnings before reading It Ends With Us, because domestic abuse is a huge part of the story. The novel is inspired by Colleen Hoover's own experience with domestic violence, including her mother's story and dealing with years of abuse from the author's father. Therefore, she draws on some painful memories to tell this story.
Hoover told the Palm Beach Post that "It Ends With Us was hard to write, but out of all my novels it's definitely my favorite." The tale starts off as a romance but gets darker and deeper as it continues.
It Ends With Us Is Still A Massive Book Hit
It Ends With Us was first published in August 2016. Nearly ten years later and it's still in the top 20 best-selling books on Amazon. According to Deadline, it's sold over 20 million copies and has been on the New York Times Best Sellers list for over 90 weeks.
The book has helped Hoover become one of the most popular novelists, and as of January 2023, she has several books on the Amazon Top 20 Bestselling Book Charts. (opens in new tab)
There Is A Sequel To It Ends With Us
In 2022, It Starts With Us, the sequel to It Ends With Us was published. It explores the next chapters for Lily and those close to her.
The sequel will likely not influence the movie, however, it is still unknown if some elements of the follow up may make it into the film. Additionally, if It Ends With Us makes enough money, a movie adaptation of the sequel is possible.
Justin Baldoni Also Directs The Movie
Justin Baldoni will produce and direct the film (he also directed Five Feet Apart and Clouds). It will be under his company, Wayfarer Studios, with Sony Pictures helping with the development. The producers also include Lively, Hoover — who also acts as a consultant — Steve Sarowitz, and Andrew Calof. Christy Hall will also produce and write the screenplay.
We still have a lot to learn about the movie adaptation of It Ends With Us, including if it will even start filming this year. Be sure to bookmark this feature so you can keep up with any developments.
Your Daily Blend of Entertainment News
Spent most of my life in various parts of Illinois, including attending college in Evanston. I have been a life long lover of pop culture, especially television, turned that passion into writing about all things entertainment related. When I'm not writing about pop culture, I can be found channeling Gordon Ramsay by kicking people out the kitchen.