Fans Are Not Happy About Blake Lively's Casting In That Colleen Hoover Movie
These fans are not pleased with this casting choice.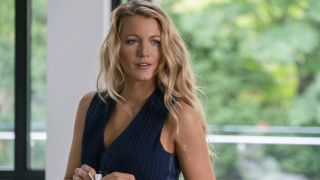 (Image credit: Lionsgate)
Whenever new book-to-movie adaptations are announced, it's always interesting to see who gets cast as characters people have spent so much time imagining. So, when it was announced that Justin Baldoni and Blake Lively would be staring in It Ends with Us, an adaptation of Colleen Hoover's bestselling book, many fans were excited, however, the casting news, especially regarding the actress, has also sparked quite a bit of backlash from fans of Lively as well as fans and critics of the book.
According to Today, there are two main points of backlash that caused this strong reaction. The first point was made because Lively is 35, and in the book the main character Lily is 23. However, the bigger point of controversy lies in people not wanting Lively to take the role, because of the controversy the book has sparked. The novel is about a woman in an abusive relationship, and it has been criticized for glorifying abuse, DomesticShelters.org wrote that it thinks the book "romanticizes red flags and glorifies a charismatic-but-dangerous man."
Due to this, many fans are not pleased with Lively's casting and made that clear on social media. We'll start things off with this video vaIdheat posted of Vampire Diaries alum Ian Somerhalder, as he's saying this news is cause for a federal investigation.
me after finding out blake lively was casted as lily bloom in the 'it ends with us' adaptation pic.twitter.com/Fcbddps7DWJanuary 27, 2023
Another fan, Celestia, threw it back to Glee and a video of Lea Michele as Rachel Berry pleading and saying "please" through tears over and over again. The popular tweet is begging Lively through to not stick with the role:
Keeping with the trend of using videos from popular shows made for teens in the 2010s, Paige used a video from Pretty Little Liars to show her frustration with the choice to cast Lively. The video of Janel Parrish's Mona screaming and fighting, clearly shows how much the Twitter user doesn't want the Gossip Girl alum to participate in this project.
"blake lively cast in it ends with us" pic.twitter.com/Oc2Q3RrDWMJanuary 27, 2023
On a similar note, ivette tweeted a video of screaming people, however, she used a clip from Family Guy to illustrate her feelings about the casting decisions for this Colleen Hoover adaptation.
why is blake lively gonna be in a colleen hoover movie pic.twitter.com/KDhwO0MKVCJanuary 27, 2023
Some fans of Lively's want to go back in time and convince her to not take the role. Like ro for example, who used a TikTok to show how she wants to time travel and persuade the actress to not audition for the role.
me going back in time to stop blake lively from auditioning for it ends with us pic.twitter.com/eG3B47RwVwJanuary 26, 2023
Similarly, allie seems to want to stop Lively from continuing with the role, using an intense scene of Viola Davis in How To Get Away with Murder to emphasize her point.
me trying to stop blake lively from doing that colleen hoover movie pic.twitter.com/aa6jfEKAzOJanuary 26, 2023
Lexi's retweet of the casting news included a TikTok of a man filming a war movie and screaming in agony. Clearly, she's upset, as she posted:
BLAKE LIVELY WHERE ANY OTHER JOBS NOT AVAILABLE TF IS THIS pic.twitter.com/10tr7dx8ZD https://t.co/YHSSj2kq5vJanuary 26, 2023
Other fans are hoping Lively decides to leave the movie, tweeting compilations of her Gossip Girl character Serena saying she was leaving on various occasions, for example, lex tweeted:
blake lively better be doing this the second she shows up to the coll**n h**ver set… pic.twitter.com/dFoccdKPvIJanuary 27, 2023
We'll have to wait and see if anything more comes of this debate, and if Lively responds to the mixed to negative reactions from fans. I'd assume it will be a while before we have any footage from It Ends with Us, seeing as the casting news was just announced.
One reason, it might be a while before we see this movie, is because at the moment Lively is pregnant with her fourth child. The actress and her husband Ryan Reynolds are also raising three young girls, and running multiple companies on top of acting. So, while she doesn't have any projects on the 2023 movie schedule, she does have many lined up, including a sequel to A Simple Favor as well as her directorial debut and now this adaptation of the bestselling, and hotly debated Colleen Hoover novel.
Your Daily Blend of Entertainment News
Riley Utley is a Weekend Editor at CinemaBlend. She spent many years working in local journalism across the country writing about art, news and sports. One of her favorite films is When Harry Met Sally and she walks around constantly quoting Ted Lasso.