M. Night Shyamalan Gets Candid About Bruce Willis' Retirement Situation And What His Family Is Going Through
This is a heartbreaking revelation from the director.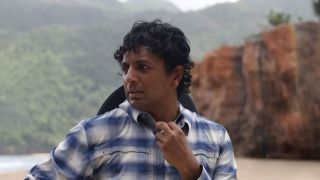 (Image credit: Universal Pictures)
Director M. Night Shyamalan is nothing if not resilient. The filmmaker has gone through all the highs and lows a career in Hollywood can bring, but as we near the release of his fifteenth film, A Knock at the Cabin, he is getting candid about his friend Bruce Willis' retirement and the hardships his family has been going through.
The Sixth Sense writer and director recently spoke with The Hollywood Reporter about freeing himself from Harvey Weinstein with his 1999 psychological thriller and his grief (as well as a personal connection) to the sudden retirement of his frequent collaborator and friend Bruce Willis- who M. Night says was responsible for protecting his early career. He told the publication:
Bruce Willis' family announced the actor's retirement in early 2022 after revealing the actor had tragically been diagnosed with a cognitive disorder known as Aphasia which affects a person's ability to understand and express speech. Upon the world learning of the Die Hard actor's struggles, many, including Shyamalan, spoke out in support.
It's a heartbreaking revelation to learn that M. Night Shyamalan's father is also dealing with cognitive struggles similar to Willis'. But the filmmaker shared how the diagnosis of both his friend and parent has made him realize how precious time on this planet is. And he has no plans of slowing down anytime soon. Still, the Unbreakable director says if he did have to stop making films, his latest, an adaptation of Paul Tremblay's novel A Cabin at the End of the World, is how he'd like to go out. He continued:
If the early screening reviews are any indication, M. Night Shyamlan's latest directing effort may very well be a worthy film to go out on. However, I hope the director has a few more twisty thrillers up his sleeves.
We want to wish M. Night Shyamalan and his family all the best while they brave their friend and family's situation. We also want to wish the director the best of luck with his upcoming horror movie, A Knock at the Cabin, when it hits theaters on February 3, 2023. M. Night. CinemaBlend readers might also be interested in checking out our 2023 movie release schedule to plan your next movie theater experience.
Your Daily Blend of Entertainment News
Ryan graduated from Missouri State University with a BA in English/Creative Writing.