Mark Wahlberg Has Been Getting To Know His Daughter's Boyfriend, And He Shared Some Honest Thoughts On The Young Man
By Carly Levy published
Mark Wahlberg opens up about his daughter's boyfriend!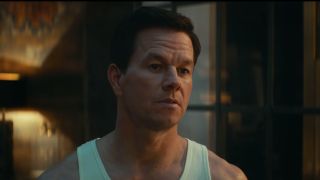 (Image credit: Sony Pictures Releasing)
It's normal to wonder what your girlfriend's father thinks of you. Well, imagine dating a young woman whose father is none other than Academy award-nominee and fitness guru Mark Wahlberg! Mark Wahlberg's 18 year-old daughter, Ella Rae, has been dating her boyfriend, James, for the past year. The actor opened up about what it was like to get to know the boyfriends, also sharing details of their bonding time together.
The Departed star made a guest appearance on The Ellen Show and revealed to the audience just what exactly he thinks of James. Luckily for Ella Rae, Mark Wahlberg has given the young couple the stamp of approval! The actor revealed that as long as his daughter is with a nice guy who treats her well, that is all he could want in his daughter's boyfriend. In fact, he admitted that James may be more afraid of Ella Rae than he is of him.
This would not be the first time that a man would be seeking approval from the daughter of a big-time celebrity. Family Feud's Steve Harvey had a rather vague and nervous response about whether he would approve of Michael B. Jordan marrying his daughter. I guess there just comes a time even for a celebrity when you have to let your daughter having a dating life, though.
This Ted star also revealed on The Ellen Show that he's been working out with his daughter's boyfriend to acquire some male bonding. Mark Wahlberg shared that because he got COVID over Christmas, James ended up being the man of the house as his whole family went on vacation without him. But there's no hard feelings there because when everyone returned, James and Wahlberg worked out together and did other stuff to strengthen the male bond.
Other than being a not-so-threatening father and fitness mentor for James, Wahlberg had a recent reunion with his former co-star Lucacris, leading to speculation about a Max Payne followup. Mark Wahlberg has also been pushing for the superhero movie The Six Billion Dollar Man to come to fruition. Whether Mark Wahlberg is hitting the gym or a theater/streaming service near you, we have not seen the last of him and he has not seen the last of his daughter's boyfriend either!
In the meantime, check out Mark Wahlberg's upcoming movies to get an idea of when you'll see him in theaters or your streaming services.
Just your average South Floridian cinephile who believes the pen is mightier than the sword.
Your Daily Blend of Entertainment News
Thank you for signing up to CinemaBlend. You will receive a verification email shortly.
There was a problem. Please refresh the page and try again.