Michael B. Jordan Ordered An Insane Breakfast Spread, And Now I Know Exactly How He Bulked Up For Creed III
Where does all of that food go?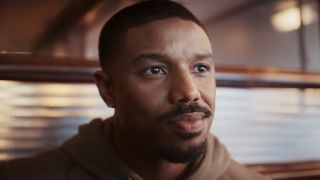 (Image credit: MGM)
Creed III is almost upon us, which means that avid moviegoers will soon be able to dive back into the Rocky universe and reunite with Michael B. Jordan's Adonis Creed. As the movie's theatrical debut approaches, Jordan – who also held down directing duties on the threequel – is starting to do press. Of course, during a long promotional trek, one needs to take a moment to rest and recharge. The leading man did those very things not too long ago, as he posted a snapshot from a seemingly relaxing meal. It also appears that the star had an insanely large breakfast order and, honestly, I can now see how he bulked up so much for his new movie.
Let's be real, Michael B. Jordan has kept himself in top physical condition for some time now. However, based on the electrifying and personal Creed III trailer, he really got in shape this time around. Of course, when an actor is prepping for a role that has a major physical component to it, you have to consume a lot of calories. Though it would seem that Jordan can pack it in even when he's not prepping for a big film.
The actor took to his Instagram story this weekend and ordered a bunch of food for breakfast, joking in a separate video it was "all for me." He wasn't kidding, as he later posted a picture of his breakfast, and yeah… it's quite a spread. Take a look at the image for himself down:
Give me a firm stack of pancakes and some sausage (and maybe some hash browns), and I'm down for the count, so to speak. I can't even imagine chowing down on everything that the Black Panther alum indulged in here. Your stomach just has to be built a certain kind of way, I suppose. What I want to know now, though, is whether the 36-year-old actor could put it away before he became a buff movie star or if he developed that serious appetite due to his training. Either way, you can take a look at the fruit of his labor in the Instagram post down below:
He wasn't the only person who had to eat more than their fair share of food in order to prepare for Creed III. Jonathan Majors had to develop a chiseled physique for his turn as the antagonistic Damian Anderson. Over the past few weeks, the Ant-Man and the Wasp: Quantumania star has spoken a little bit about what it took for him to achieve his ideal bod, which took the Internet by storm. Majors had to eat an insane amount of calories and gave up french fries for the part as well. (I'm hurting just thinking about having to drop the greasy snack from my diet.)
Though on a brighter note, Michael B. Jordan and Jonathan Majors' efforts likely won't be in vain. The third movie in the boxing franchise looks downright incredible, and I'm geeking out at the thought of Jordan being behind the camera. It's all somewhat bittersweet since Sylvester Stallone's Rocky won't appear, though it seems that Jordan is moving the franchise forward in a way that feels fresh.
It seems this won't be the last time that the actor/director will enter the ring, either, as he's already announced that Creed IV is in the works. That means he'll have to load up on carbs again at some point in the future. But of course, considering his recent breakfast post, chowing down on copious amounts of food won't be a problem for him.
See the culmination of Michael B. Jordan's training (and eating) when Creed III opens on March 3 as part of the schedule of 2023 new movie releases. You can also prepare for the sports flick by streaming the first two installments using a Hulu subscription.
Your Daily Blend of Entertainment News
Covering superheroes, sci-fi, comedy, and almost anything else in film and TV. I eat more pizza than the Teenage Mutant Ninja Turtles.