Pacific Rim Uprising: What We Know So Far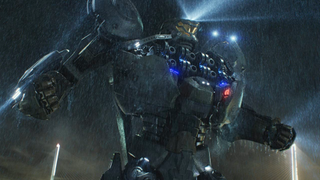 (Image credit: Warner Bros.)
There may come a day, after everything's said and done, that the term "forever" will be replaced with "Pacific Rim: Uprising," as it's taken almost that long for a sequel to finally start to rev up. The 2013 summer event picture wasn't a huge success upon entering the film market, but over time Pacific Rim did eventually find an audience, bringing home quite a sum during its box office run. So, of course, with a director like Guillermo del Toro interested in returning to a property that could theoretically make a killing in the second round, Pacific Rim: Uprising (formerly Pacific Rim: Maelstrom) became a going concern for the folks at Legendary Pictures, as well as the brass at their new production partner, Universal Pictures.
Yet, as promising as those initial days were, Pacific Rim: Uprising has suffered setbacks, stumbling blocks, and straight up cancellations in its roughly four years of existence. But to paraphrase the late, great Stacker Pentecost, the powers that be have cancelled the apocalypse, and the film is back on! Which means it's never too early to start compiling the facts and turning on the hype machine to full throttle, collecting everything we know, and think we know, about the next battle between man and beast.
Now, without further delay, here's what we know so far...
What Is The Pacific Rim: Uprising Rating?
Pacific Rim: Uprising will more than likely obtain a PG-13 rating from the Motion Picture Association of America. The last film handily obtained that very same rating, which tends to be the sweet spot for films involving blockbuster action and stylized violence against fictitious creatures. Seeing as the film is already a box office gamble, you can bet the powers that be will want to mine the popular ratings rung for what it's worth.
What Is The Pacific Rim: Uprising Release Date?
Originally, Pacific Rim: Uprising was announced with a release date of August 4, 2017. This, of course, was when the project was slated for a start date of sometime last fall. Unfortunately, one of the early signs of trouble with getting the film off the ground came when Pitch Perfect 3 was moved into that slot, with Pacific Rim: Uprising to be re-scheduled at a later time. The current release date that Universal's penciled in for the sequel stands at February 23, 2018, with production starting in late 2016, back when the film was still called Pacific Rim: Maelstrom.
What Is Pacific Rim: Uprising About?
Not much is known about the official story to the film that's also known as Pacific Rim: Uprising, however there are some intriguing rumors as to what the film may be about. The biggest rumor was the fact that despite bringing everyone who survived Pacific Rim back into the fold, the world will be a very different place since the defeat of the Kaiju menace. Specifically, we'll be heeding the lessons of our initial war of the monsters, and learning to protect ourselves a bit better, with Dr. Newton "Newt" Geiszler and Dr. Herman Gottlieb at the forefront of the story, which takes place years after the events of Pacific Rim. Whether Newt will be a hero, or a villain as previously hypothesized, is left for discussion - but one thing's for certain, the Kaiju junkie supreme has not been the same since his initial drift sessions between himself and one of the many monsters of "The Breach."
However, this may have changed after John Boyega's character, Jake Pentecost, was announced as the son of Idris Elba's late, great Stacker Pentecost. On top of a new cast that includes Scott Eastwood, Levi Meaden, and Adria Arjona, it looks like there's a trio of new Jaeger hotshots looking to score one for humanity. Also, one final note on the potential story to Pacific Rim: Uprising; allegedly, the final battle is going to be a doozy. The writer currently attached to help script the film is Jurassic World writer Derek Connolly.
The Director
While Guillermo del Toro may have been the original choice to direct Pacific Rim: Uprising, seeing as he created the franchise and all, he departed the director's chair once the announcement was made that the project was coming out of hibernation. Which meant that a bold new candidate would be needed to take on the task of pitting humans and kaiju against each other yet again. Enter Steven S. DeKnight, best known as the first season showrunner for Netflix's Daredevil. DeKnight is also known for his various roles as a combination writer/producer/director on such shows as Smallville, Angel, and Buffy the Vampire Slayer. This is Steven S. DeKnight's first feature film as a director.
Guillermo del Toro
Mega geek extraordinaire Guillermo del Toro has a thing for monsters. Ever since his first film, Chronos, the director has tended to focus on the fantastical and the frightening with his films. Pacific Rim was no exception to that rule, as del Toro wore his influences on his sleeve, crafting a film that was a love letter to the giant monster films of his youth. While Guillermo del Toro initially intended to direct Pacific Rim: Uprising, he eventually handed off the reins to former Daredevil showrunner, Steven S. DeKnight. Del Toro will remain on the project as a producer and proud papa, as he is currently directing The Shape of Water at Fox Searchlight, as well as developing both a remake of Fantastic Voyage and an adaptation of Scary Stories To Tell In The Dark.
Raleigh Becket
The once and future Jaeger pilot supreme, Raleigh Becket is one of the only jockeys that's been able to pilot a single Jaeger without a co-pilot, doing so in the legendary "Gipsy Danger." This record came at a cost though, as it was a result of the loss of his brother during a routine mission against the Kaiju codenamed "Knifehead." Despite retiring from the Pan Pacific Defense Corps after this tragedy, Raleigh is eventually lured back into active duty by his former commanding officer Marshall Stacker Pentecost. His return couldn't have come a moment sooner, as the then dormant Jaeger program is resurrected, in order to save the world from the Kaiju scourge that are breaking through the protective walls humanity has started to build up. Played by Sons Of Anarchy star Charlie Hunnam, the actor hoped that Pacific Rim: Uprising would have afforded more of a chance to explore the characters and story of the world, rather than succumb to another dose of spectacle. Unfortunately, Hunnam is unavailable for the production schedule of Pacific Rim: Uprising, and will not be returning.
Mako Mori
An orphan of a particularly devastating Kaiju attack during her childhood, Mako Mori is the adopted daughter of Marshall Stacker Pentecost. Rescuing her from the wreckage left from his battle in Pacific Rim with said Kaiju, Mako is under the protective thumb of Stacker - who initially does not want her to become a Jaeger pilot. Eventually though, Stacker relents and Mako eventually falls into co-piloting the resurrected "Gipsy Danger," alongside ace Jaeger pilot Raleigh Becket. Not only does Mako get to pilot a Jaeger herself, she's also the director of the project that oversees the reconditioning and revitalization of the Jaeger program to begin with. Played by Rinko Kikuchi, best known for her breakout role in the 2006 drama Babel, Mako is a strong and resourceful fighter for humanity that we hope gets to return in Pacific Rim: Uprising. Judging by a recent photo posted (and then removed) by cinematographer Dan Mindel, our hopes may be fruitful, as Kikuchi's name was one of three returning actors from the original film.
Tendo Choi
With any good high-tech operation comes a special breed of technician that knows how to make it sing. Tendo Choi is the man in Pacific Rim who knows how to make the Jaeger program work at full efficiency, as he oversees operations at the main control room of the Shatterdome. Working closely with Marshall Stacker Pentecost, Choi does everything from provide status updates on Jaegers in the field, advice to said Jaegers on the Kaiju they're fighting, and resetting the War Clock once a skirmish has concluded. Played by veteran character actor Clifton Collins Jr., Tendo is yet another one of the faces we'd love to see return to action in Pacific Rim: Uprising.
Stacker Pentecost
In the early days of Pacific Rim's Jaeger program, Stacker Pentecost was one of the legendary pilots to maneuver a Mark I unit into battle against numerous Kaiju incursions. One such mission brought him into the life of the young woman he would eventually adopt as his daughter, Mako Mori, and the rest was history. Rising to the rank of Marshall before the Jaeger program was disbanded, Stacker has a firm grip on his command, and a secret that he's been hiding for years. That secret is the fact that he's slowly dying due to excess radiation exposure during his Jaeger piloting days. It's this illness that makes him a perfect candidate for the final assault on "The Breach" that connects our world and that of the Kaiju, and with a thermonuclear blast he and co-pilot Chuck Hansen are presumed dead. While Stacker looks like an almost impossible character to resurrect, his legacy lives on in a new character to the world: his son, who will be played by Star Wars: The Force Awakens' John Boyega.
Chuck Hansen
If there was ever a familial dynasty to take on the Becket brothers in the world of Pacific Rim, it'd have to be Chuck Hansen and his father, Hercules. Pilots of the Jaeger "Striker Eureka," the Hansen men are some of the first pilots called upon to return to the world of the Shatterdome, after the Jaeger program reactivation. With a record eleven Kaiju kills, Herc and Chuck are an extremely effective team - until an injury sidelines Herc, and forces Chuck to accompany Marshall Stacker Pentecost on "Operation Pitfall" - the scenario where Striker Eureka and Gipsy Danger travel to "The Breach" and detonate a nuclear warhead, in order to seal off our world. Unfortunately, Chuck and Stacker do not make it back, as they blow the bomb to make way for Gipsy Danger to complete the mission. Chuck's heroism is thanks to the performance that actor Robert Kazinsky delivered in Pacific Rim, and if there's a way that Stacker could have survived that nuclear blast, you can bet that Chuck is probably there with him. As for Herc, Max Martini is listed on IMDB as returning for Pacific Rim: Maelstrom, so there's a chance we'll see dad back in action yet.
Dr. Newton Geiszler & Dr. Herman Gottlieb
Geniuses are a touchy lot, especially when they think they're the best in their field. Dr. Newton "Newt" Geiszler and Dr. Herman Gottlieb are two such geniuses who clash whenever they get the chance. Their personalities are vastly different, with Herman being a straight-laced professional and Newt being the rock star / chaotic force of nature that he's always been. Yet there's no mistaking that the two men know a thing or two about Kaiju science, and it's thanks to their brilliance and sheer bravery in drifting into the mind of a Kaiju that they discover the key to defeating "The Breach." With It's Always Sunny In Philadelphia's Charlie Day playing the crazy Newton, and the versatile hardcase Burn Gorman playing Herman, the two actors are rumored to be the center of Pacific Rim: Uprising's plot, with Newt rumored to be turning to the darker side of the coin, thanks to his various experiences inside of the Kaiju mind. Much like Rinko Kinkuchi, both Gorman and Day are supposedly on the list of cast members to return for the second story.
Hannibal Chau
Hannibal Chau is the type of guy that does business in a similar fashion to how he dresses: very flashy, with punctuations of aggression, but always on point. While making a killing in black-market sales of Kaiju organs and parts, Chau has made a cushy living for himself - which was only minorly interrupted when he wound up eaten by a baby Kaiju residing in a recently slain mother he was harvesting. If you'd left the theater at the wrong time, you might have missed Chau working his way out of that dead baby Kaiju, but rest assure he's alive and well. Played with expert aplomb and badassed swagger by Guillermo del Toro favorite Ron Perlman, the man best known as Hellboy has expressed no qualms coming back for another round of black market wheeling and dealing.
New Cast Members
Alongside John Boyega's son to Idris Elba's Stacker Pentecost, there are several other actors that have recently joined the cast to Pacific Rim: Uprising. For starters, Suicide Squad's Scott Eastwood has been brought on board, possibly to play the co-pilot to Boyega's Pentecost Jr. Also signed on in unknown capacities are The Great Wall's Jing Tian, pop singer Cailee Spaeny, The 100's Levi Meaden, and Adria Arjona of Narcos. While a lot of these new faces don't have names or character descriptions, save for Meaden's "irreverent and offbeat cadet," it's safe to assume that these young actors will represent a new generation of Kaiju ass kicking.
The Kaiju
In 2013, the existence of the menacing beings known as the Kaiju had become a devastating reality. Rising from an interdimensional rift, known as "The Breach," the Pacific Ocean became a hotbed of monstrous activity, almost spelling extinction for all of humanity. Pacific Rim teaches us that there's a scale of threat assessment, known as the "Serizawa Scale," that measures the volatility of the Kaiju in play: both in abilities and in the environmental harm their physiology could cause the surrounding area. Throughout the events of Pacific Rim's timeline, the ferocity of the Kaiju attacks keep ramping up, with newer creatures from higher categories coming to play in humanity's sandbox. By the time the film's climactic battle kicks in, a "triple event" of three simultaneous Kaiju has occurred, with one of them being the first Category V on record. Naturally, Pacific Rim: Uprising will either have to expand the Serizawa Scale, or increase the number of Kaiju in one instance, to properly escalate the threat.
Production Troubles
The production history of Pacific Rim: Uprising is the stuff of nightmares, though it started off like a dream. With a sequel being hinted at even before the first film had been released, 2014 was the year that the second installment of Guillermo del Toro's giant monster series started to pick up steam. A script was being written, it was being talked about as a viable concern, and it was even being touted as doing something different from the first film. Alas, by time last September rolled around, development had stalled on the film - with the "indefinite cancellation" notice coming on September 16th, 2015. It wouldn't be until the following February that the film would shake off the cobwebs once more, but for a time it looked as if Universal wasn't in the business of spending money on del Toro's vision, presumably because Crimson Peak brought in a mild showing at the box office in October 2015.
Sequel Potential
Talk of a premature sequel has happened before, and talk of a premature sequel has happened again, as Pacific Rim: Uprising has been written with its own sequel in mind. Notably, Guillermo del Toro has mentioned the possibility of characters coming in towards the end of the second film, so as to ramp up the story for a third installment. While he's previously said that anyone who died in Pacific Rim stayed that way, we can't help but think that maybe Stacker Pentecost and Chuck Hansen may have survived their encounter with a thermonuclear device and the rift between our world and that of the Kaiju. Though, even if that's not the case, there is one character del Toro wants in Pacific Rim 3 that outdoes any other possibility: Godzilla himself.
If Pacific Rim: Uprising continues to build the way we hope it does, audiences should be in for quite a treat. As always, we'll keep you up to date on any news as it becomes available.
Your Daily Blend of Entertainment News
Sarah is currently a professional child wrangler. When she is not running around on the playgrounds and slapping together PB&J sandwiches, she loves getting a good sweat in at the gym, singing, and going to see live theatre (while simultaneously dreaming about being a part of a stage creation again one day).
Your Daily Blend of Entertainment News
Thank you for signing up to CinemaBlend. You will receive a verification email shortly.
There was a problem. Please refresh the page and try again.