Godzilla In Pacific Rim 3? Guillermo Del Toro Wants It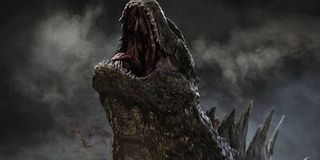 We already know that when Pacific Rim 2 stomps through theaters in 2017, it's going to be big. It's a movie about giant monsters battling giant mechanical warriors, how can it not be massive? However, if director and mastermind Guillermo del Toro has his way, the franchise will get even bigger: he wants to bring Godzilla into the fold.
Even months ahead of the release of the first Pacific Rim, and more than a year in front of Gareth Edward's Godzilla reboot, the Hellboy director was talking about the possibilities. Moviepilot just put together an argument (we made a very similar case a few years back) for how and why this could happen, and pulled this quote del Toro gave in an interview with Collider back in 2013. Riffing on the possibility, he said:
This wasn't the only time del Toro talked about this possibility in the build up to Pacific Rim. Godzilla has an obvious, unmistakable influence on the director's creature feature, so how could he not pontificate on the possibility? And he did, often. This crossover is the kind of super fan wet dream that people make mash up videos for, and just the very idea of Godzilla throwing down with skyscraper-tall mechs is enough to keep you warm at night.
While we don't truly believe for a moment that this will actually ever happen, we're going to put on our conspiracy pants and suppose that maybe, just maybe, there is an alternate dimension out there someplace where this might happen. For instance, both 2013's Pacific Rim and 2014's Godzilla came from the same studio, Legendary Pictures. That fact alone is enough to make some people sit forward and say, "Well, maybe…"
And we're well aware of how dogged Guillermo del Toro can be when it comes to holding onto an idea for a film. He still wants to make At the Mountains of Madness and keeps talking about Hellboy 3. Hell, Pacific Rim 2 is a passion project that didn't look like it was ever going to get made not too long ago. Pacific Rim wasn't the hit Legendary hoped for, and only after doing well internationally did it make enough money for anyone to even discuss the potential for a sequel without laughing. Even after that, it was pushed back and delayed a number of times. So, maybe if he keeps his mind set, it could happen one day.
Pacific Rim 2, also know as Pacific Rim: Maelstrom, is scheduled to shoot later this year, and the plot reportedly examines how the world copes with the fact that giants monsters are no longer a looming threat (at least not at the beginning), and will answer questions like, what becomes of the Jaegers? And what do the Jaeger pilots do now?
While a Godzilla/Pacific Rim crossover is likely to remain a pipe dream for the foreseeable future, we've got more from both franchises coming in the future. Pacific Rim: Maelstrom is slated to smash theaters on August 4, 2017, while Godzilla 2 is scheduled to stomp moviegoers on June 8, 2018.
Your Daily Blend of Entertainment News
Thank you for signing up to CinemaBlend. You will receive a verification email shortly.
There was a problem. Please refresh the page and try again.