Pacific Rim 2 May Be Running Into Problems, Here's The Latest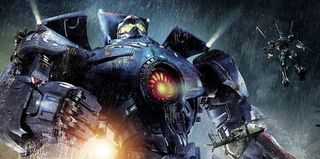 It looks like Guillermo del Toro just can't catch a break with his giant monsters versus massive mechs saga, as Pacific Rim 2, also known as Pacific Rim: Maelstrom, may have suffered yet another set back. A new report making the rounds indicates that the sequel, which has already been pushed back before, may have just been delayed yet again.
According to Latino Review, those of you out there who have been looking forward to watching vicious creatures from another dimension known as Kaiju throwing down with skyscraper tall mechs called Jaegers, may have to wait a while longer. Apparently a few of their industry sources told them that the film is being postponed.
The most recent news we had heard about Pacific Rim: Maelstrom was that it was scheduled to start filming in Toronto later this year, in November to be specific. That, however, has changed, as the date for production to get rolling has now been pushed all the way back into 2016, with nothing more precise than that.
The outlet reached out to Legendary Pictures, the studio behind the project, though they haven't heard back, and at the moment anyway, there is no reason known for this situation. Something else that may currently be up in the air is the release date for Pacific Rim 2. Originally penciled in for an August 4, 2017 slot, we don't know how, or even if this delay will impact when we might see the movie. At this point, that's still almost two years away, so depending on the scope and scale of the production—which is, of course, going to be massive—that date could still stick, but the safe bet it that Legendary will be looking for new real estate to move into.
That we were getting Pacific Rim 2 wasn't always a given. While the first film made money in 2013, it wasn't as big a hit as the studio hoped. Against a budget of $190 million, it ultimately made $411 million worldwide, but it took its sweet time getting there, and wasn't well received by domestic audiences. Even though Guillermo del Toro was talking sequels before the movie even opened, one wasn't confirmed until November of 2014, and even then, there weren't a lot of concrete plans in place. It's been an ambling process thus far.
As we understand it, the story picks up some time after the events of the first film, depicts a world learning to cope with the fact that giant monsters invading their cities aren't a constant threat anymore, and shows what has become of the Jaegers and their pilots. Charlie Day's Dr. Newton Geiszler and Burn Gorman's Dr. Hermann Gottlieb are said to be the main characters, though del Toro has indicated that all of the original players who didn't die will return, so we will likely see Charlie Hunnam's Raleigh Beckett, Rinko Kikuchi's Mako Mori, and Ron Perlman's Hannibal Chau back for more fun.
As of now, Pacific Rim: Maelstrom is still scheduled for release August 4, 2017, though that could change. In the meantime, Guillermo del Toro's haunted mansion tale Crimson Peak hits theaters on October 16, just in time for Halloween.
Your Daily Blend of Entertainment News