Pacific Rim 3 Is Coming, Here Are The Details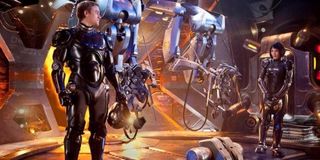 You can't fault Guillermo del Toro's forward planning. We've not even had Pacific Rim 2, yet but the beloved Mexican director is already gushing over details for Pacific Rim 3. And from his recent comments, it's quite clear that he has big plans for the franchise.
While talking to Collider to promote The Book Of Life, which he worked on as producer, del Toro revealed that he has huge plans for the ambitious Pacific Rim franchise. Not only is he and his team currently hard at work on Pacific Rim 2, but they have written it with a third film in mind. The filmmaker also confirmed that it will mix things up a bit, and that some characters from the 2013 blockbuster won't return. Said the director,
Guillermo del Toro, who will return to writing and directing duties for the eagerly anticipated sci-fi extravaganza sequel, also admitted that they have recently finished work on the first draft of the script. However they're still some distance off the finished product, and they expect to spend another "4-5 months on the screenplay." He then concluded, "We start pre-production next year in August- September and start shooting November – December next year."
Am I the only one who isn't that excited about the burgeoning Pacific Rim franchise? While it's always delightful to hear a borderline genius filmmaker talk passionately about their project and the way that they plan to build a potential franchise, I'm just not wholly convinced that Pacific Rim deserves so many future installments. It just feels too much too soon for a franchise that hasn't even really found its feet yet.
Don't get me wrong; I thoroughly enjoyed Pacific Rim when it first hit cinemas. In fact, it has even stood up to repeated viewings too. I also like the indication that Charlie Hunnam's dull as dishwater lead character, Raleigh Becket, may be dispensed with - but I just don't think that world is worth exploring much further. Especially since the original film's domestic gross was a disappointing $101.8 million from a $190 million budget. In fact, the only reason that it has actually been given a follow-up was its hugely impressive international gross, which saw it amass just under $310 million overseas. Still, when you're beaten by Grown Ups 2 in your first week of release, maybe it's best not to start planning out a franchise that will extend years into the future.. I just don't want to see Guillermo del Toro disappointed.
Your Daily Blend of Entertainment News