Steve-O Jokes Bam Margera Is The 'Britney Spears' Of Jackass, But He Actually Has A Kind Reason For Bringing The Troubled Star With Him On Tour
Honestly, this is pretty admirable of Steve-O.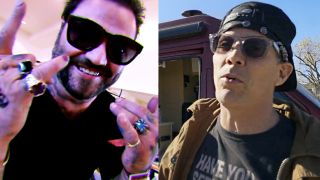 (Image credit: Hal Roach Studios, Paramount Pictures)
It's been a difficult few years for the early 2000s superstar skateboarder Bam Margera. His battle with substance abuse has seen him in and out of rehab, engaging in a contentious legal dispute with Jackass' creators and suing his former friends and co-stars, which caused him to be almost entirely excluded from the fourth film in the franchise. But the Viva La Bam star is out of rehab, claims to be sober, and is keeping himself busy. Margera is currently touring as the opening act for his old friend, Steve-O. The media personality jokes that Margera is the "Britney Spears'"of their beloved MTV franchise but reveals he has a specific reason for bringing the troubled star with him on tour. And it's commendable.
A video of the two MTV veterans workshopping stand-up material while on Steve-O's "The Bucket List Tour" was obtained by TMZ. They performed in front of a packed house at the Elsinore Theatre in Salem, where Steve-O can be seen helping Margera with some jokes, as he told stories about his time in rehab and even comparing his life to Britney Spears', as the pop star has dealt with her fair share of headline-grabbing situations. According to the news outlet, the Wildboyz star told the crowd he wanted Margera on tour with him because he was scared his friend was headed down a path of early death and is trying to help him lead a healthy life and find a "happy ending."
The stuntman's goal is a laudable one. If readers will recall, Bam Margera admitted on Steve-O's podcast, Wild Ride!, that he had been pronounced dead during his December hospitalization while he was fighting a nasty blood infection and suffered from four seizures. This brush with death must have been a terrifying experience that might have been a wake-up call for him and for his friends. Steve-O, whose birth name is Stephen Glover, is no stranger to addiction and recovery. The clown-turned-stuntman has been sober for nearly 15 years and understands the importance of being accountable to someone who can help you navigate recovery.
Bam Margera has had some serious health issues recently, but it's clear his great sense of humor is still intact. It's lovely to see that now that his lawsuit with the Jackass guys has been settled, he can begin to rebuild his relationship with Steve-O and, hopefully, the rest of the team so that potential future projects with the team can include him. While the well-reviewed Jackass Forever was a blast, Margera's notable absence (except for one brief appearance) dampened the fun-filled nostalgia ride. You can see some of the great behind-the-scenes photos of the two on the tour, which Glover has been posting to his Instagram, below.
While we don't know whether or not a Jackass 5 is in the cards, co-creator and star Johnny Knoxville hasn't ruled a sequel out. Here's hoping that if a fifth movie in the series materializes, Bam Margera is still clean and sober and in a good place so he is capable of participating in another crotch-punching and beehive-swatting outing. And we wish all the best for Margera and peace and good health while he embraces his recovery on tour with Steve-O.
Jackass Forever is currently streaming for anyone with a Paramount+ subscription. Also, check out the schedule of 2023 new movie releases to plan your next movie experience.
Your Daily Blend of Entertainment News
Ryan graduated from Missouri State University with a BA in English/Creative Writing.