The 'Powerful' Moment Bruce Willis Helped Craft On The Set Of One Of His Final Films
Bruce Willis helped deliver a powerful moment on the set of one of his final films.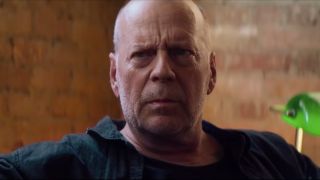 (Image credit: Redbox Entertainment)
We are never prepared for the curveballs that life throws at us. I'm sure actor Bruce Willis never would have thought he'd face early retirement as a result of aphasia. This health condition leaves a person unable to communicate effectively due to damage from a specific part of the brain. Knowing you will not see a particular actor on a film set ever again can make the special moments you had with them even more precious. And director Jared Cohn recalls a "powerful" moment that Bruce Willis helped craft on the set of one of his final films.
One of the eight films that Bruce Willis completed since his retirement is Redbox Entertainment's Vendetta about a man out for vengeance for the brutal murder of his daughter. Bruce Willis plays the father of the killer. Jared Cohn, whose favorite film happens to be Die Hard, felt "honored" to be able to spend time with the iconic action star before his retirement. Entertainment Weekly did an interview with Cohn about what Willis did to bring intensity to a particular scene in the action flick.
Jared Cohn is not the only person to have had special memories with Bruce Willis. After the Die Hard actor's retirement was announced, plenty of celebrities was quick to share the beautiful memories they had with him. For example, Joseph Gordan Levitt remembered the time Bruce Willis paid him a compliment on the set of their film Looper by telling Levitt he sounded just like him as he played a younger version of The Sixth Sense star. Michael Bay has memories of his own like the time he remembered Bruce Willis trying to break into a NASA space shuttle during the filming of Armageddon. His ex-wife Demi Moore, Unbreakable director M. Night Shyamalan, and more have tributed Bruce Willis by highlighting who he is as an actor and a person. Anyone who has ever worked with Bruce Willis should consider themselves very fortunate for the memorable opportunities they had with him.
Another moment that Jared Cohn was proud to witness on set was the father-son dynamic between Bruce Willis and Sons of Anarchy Theo Rossi. He expressed to Entertainment Weekly about the bond they captured on-screen during one particular scene.
Bruce Willis may not be acting anymore, but that only gives him all the time in the world to spend with his loving family. His current wife of 13 years, Emma Hemming Willis, shared new photos of her and her husband out in the great outdoors looking very happy together. It's also a good time for the 67 year-old to reminisce on the sweet moments he has with his family who have been there to support him during this difficult time.
If there is any silver lining when tragedy hits, it is learning to appreciate every moment you have with the people you love and for those people, in turn, to honor those memories for years to come. Catch Bruce Willis' upcoming movie Vendetta in Redbox kiosks and select theaters on May 17th.
Your Daily Blend of Entertainment News
Just your average South Floridian cinephile who believes the pen is mightier than the sword.