Upcoming Bruce Willis Movies: Everything The Die Hard Star Has Coming Up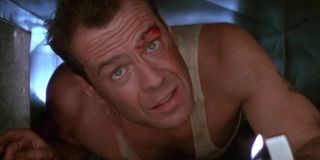 When it comes to action stars, Bruce Willis is one that does it all, from amazing thrillers that will have you jumping out for your seats to big fights that will leave someone bruised.
If you think you've seen a lot of this star, be prepared for the 2021 movies and 2022 movies because Bruce Willis has a lot coming out. Here is everything the Die Hard star has coming up in the next couple of years.
Reactor - 2021 (Post-Production)
First up, we have Reactor. According to Variety, Bruce Willis has signed on for this action thriller. The story follows a former soldier whose goal is to take down a gang that is filled with mercenaries. The leader, played by Willis, has a lust for revenge, which leads to him holding a nuclear power plant hostage
This film is set to come out in 2021, with Jared Cohn, known for films like Atlantic Rim and Buddy Hitchens, is directing. So far, it seems that the film has wrapped production, according to WALB News, so we might get this sooner than we think.
Apex – 2021 (Post-Production)
If you thought that Bruce Willis was already done with thrillers after signing onto multiple action films, you were wrong. According to The Hollywood Reporter, Bruce Willis is set to star in this sci-fi thriller, called Apex. The story is about five elite hunters, who are paid to hunt down a man on a deserted island, but as their prey begins to fight back, they, one by one, begin to fall.
Willis is set to star alongside Neal McDonough, known for roles on Band of Brothers and Captain America: The First Avenger, Nels Lannarson, who had parts in Cold Pursuit and Horns, and several others, with Edward Drake directing. The Hollywood Reporter also said that production has wrapped, so keep an eye out soon hopefully for a trailer for Apex.
American Siege – 2021 (Post-Production)
What genre do you think is coming next? If you guessed another action-thriller, you're correct, my friend! The next item on this list is the upcoming American Siege, an action-thriller film that Bruce Willis has signed onto, according to Deadline.
In this film, Willis is going to play a sheriff in the small town of Fitzgerald, Georgia, who has to take down a gang of thieves when they kidnap a wealthy doctor and keep him held hostage. Edward Drake from Apex is also directing American Siege, with the two Hollywood workers coming together once again.
With how often Bruce Willis does these crazy big action films, I have a feeling that American Siege is going to be a bit more of a simple action film, with filming having taken place in Georgia. However, if Bruce Willis is going to be the star, we can almost guarantee that no matter what, we will enjoy it.
Gasoline Alley – 2022 (Post-Production)
Moving on, we take a look at Gasoline Alley. According to Variety, Bruce Willis, alongside co-stars Luke Wilson and Devon Sawa, know for his part in the Final Destination series, have signed on for Gasoline Alley.
In this film, a "bruise-fisted" boss-type, Jimmy Jayne, ends up becoming implicated in a triple murder of three Hollywood stars, who drowned in a hotel pool. Willis and Wilson, who plays Freeland and Vargas, two homicide detectives, have him as their prime suspect. It's up to Jayne to somehow clear his name – through any illegal means possible.
Edward Drake is yet again set to direct this film, and Variety also reported that production began in March of 2021. However, Highland Film also revealed a Pre-Cannes Film Festival tease of the film, according to Variety, so it seems that post-production is right around the corner.
The Fortress Trilogy – 2022 (Post-Production)
You know what it means when it's Bruce Willis – more action films to look forward to, except this time it's going to be a trilogy of films. According to Deadline, Bruce Willis is set to star in The Fortress, a trilogy of films, two of which are set to film back-to-back.
The film will be about a group of criminals who breach a compound that is designed as a top-secret resort for retired U.S. intelligence officers. They are hellbent on revenge against Willis' character, Robert, so now he is forced, alongside his son, to save the day.
Alongside Bruce Willis will be Jesse Metcalfe, known for parts in Desperate Housewives and John Tucker Must Die, and Chad Michael Murray, known for roles in Dawson's Creek, One Tree Hill and Riverdale. James Cullen Bressack is set to direct the two films.
Soul Assassin – 2022 (Post-Production)
Next up, another action film, this one titled Soul Assassin. According to Variety, Bruce Willis is set to star in this action-mystery flick, following the story of a former black-ops soldier, who ends up taking the place of a man who died during an experimental military program, in order to figure out who killed him.
Soul Assassin will be directed by Jesse Atlas, and will also star Nomzamo Mbatha, known for her role in Coming 2 America, as well as Barry Jay Minoff, known for his part in Exposure. Variety also reported that principal photography was recently wrapped. There's no set release date yet, but the film is primed to come out sometime in 2022, so keep an eye out for this one.
A Day To Die – 2022 (Filming/Post-Production)
I mean, it sounds about right that a new movie coming from Die Hard star has the term "die" in it somehow. A Day To Die, according to Deadline, will co-star Bruce Willis in the action-thriller, with Wes Miller is directing the movie.
In this film, we follow the story of a parole officer, played by Kevin Dillon, who is indebted to a local gang leader and is forced to pull off a series of super dangerous tasks involving stealing drugs within a time span of 12 hours, in order to pay off his debt. All while doing this, he has to save his family and settle a score with the city's corrupt police chief, played by Willis, who is also working with the gang.
This film sounds like a million double-crosses in one, honestly, and I am here for it. According to Clarion Ledger, the latest filming update was when A Day To Die was filming back in April, with the film expected to release in 2022.
Killing Field – TBA
We're nearly there, folks, I promise. Coming up next, we have Killing Field. According to Deadline, Bruce Willis is set to star in this action film, alongside several stars such as Kate Katzman, Donna D'errico, Swen Temmel, and Zack Ward.
James Cullen Bressack, who as we mentioned, is directing the two Fortress trilogy movies, is set to direct Killing Field as well. The film follows Chad Michael Murray's character, whose life on his family's farm is suddenly interrupted when a cop and some dangerous criminals show up, throwing him in for a loop.
We're still waiting for a release date for this one.
White Elephant – TBA (Filming)
According to The Hollywood Reporter, Bruce Willis is set to star alongside Michael Rooker, known for his parts in Guardians of the Galaxy and The Walking Dead, and Olga Kurylenko, known for her role in the Marvel film, Black Widow, in White Elephant.
The film, which will be directed by Jesse V. Johnson, will tell the story of an ex-marine-turned-mob enforcer, who has to battle his own morals and his code of honor when he is forced to suddenly help clean up a botched assassination job from his protégé, Carl. Willis will portray Arnold, the top man that is in charge of the mob, and Kurylenko will play the cop that has been hunting down the mob for years.
There's no set release date yet for this new action film. However, whenever this does come out, it's sure to be a fun ride with all these stars signing on.
Paradise City – TBA (Filming)
For the first time since Pulp Fiction, John Travolta and Bruce Willis will be teaming up once again on screen. According to Deadline, the two stars are set to take main roles in Paradise City, an action pic directed by Chuck Russell. Production for the film began back in May of 2021 in Hawaii, according to Deadline.
Willis is going to portray a bounty hunter, named Ryan Swan, who has to work his way through the Hawaiian crime world so he can wreak vengeance on the kingpin, played by John Travolta, the man that murdered his father.
Stephen Dorff (True Detective) and Blake Jenner from The Edge of Seventeen are also set to star alongside the two, according to Deadline. There's no set release date yet, but hopefully, we might be able to get some updates on this action flick soon.
With all these action movies, I don't know how Bruce Willis doesn't just collapse from exhaustion. No matter how you feel about thriller films, you need to give props to the man for kicking butts and saving the world for decades now. And it seems he isn't slowing down any time soon. And while it remains to be seen if Bruce Willis ever returns to his iconic Die Hard character in a future movie, it's exciting to see all of the other projects he has lined up.
Your Daily Blend of Entertainment News
Big nerd and lover of Game of Thrones/A Song of Ice and Fire. Will forever hate season eight. Superhero and horror geek. And please don't debate me on The Last of Us 2, it was amazing!